A new face in the Library Media Center: Meet Kassie Wright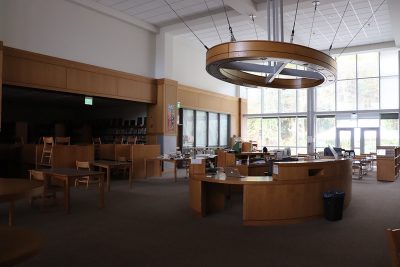 After many years at WHS, former library assistant Pam Miller has retired. Filling Miller's position will be Kassie Wright, who will be working alongside Joanne Schmidt in the Library Media Center. Wright heard about the job through Indeed.com and had always had a passion for being a library assistant, so she applied.
"After reading what the job was going to entail, I knew that I wanted to apply for it," Wright said.
Past experiences in this field inspired Wright to apply for the job. In college, she was involved with the library at her school and has since enjoyed the field of work.
"When I was in college, I worked at my college library doing almost the exact same thing, so I knew that I would love this job and that I would be able to help out," Wright said.
While working in the Media Center, it's not uncommon to interact with a lot of students, which Wright enjoys. Before COVID-19, the Media Center was often bustling with students studying, talking, reading and simply enjoying each other's company. The Media Center is now quieter due to regulations on the number of students, but there are still some students that use lunch or study periods to get their work done.
"So far, I would have to say my favorite part of the job is when I work during the lunch periods because that is when I see the most students," Wright said.
Previous jobs after college gave Wright some of the skills she utilizes today as a librarian. Wright's job at Best Buy as a Magnolia sales specialist helped her build skills such as interacting with customers, attaining to their requests or finding the best product for them. This correlates to her duties now as a librarian.
"My previous jobs gave me the knowledge that will help me in the future or with what I am doing now," Wright said. "For instance, when I was a sales associate, I had to help customers find the right setup that would work best for them, and now I get to help students, staff and faculty find the right materials that they need whether that be a book, a magazine or just some paper."
Although Wright just began the job, it is going pretty well in her opinion. She especially enjoys this job because being a librarian has been her favorite of all her occupations.
"This job has been a blessing," Wright said. "I have always wanted to work in a library, so I am beyond excited, to say the least."