Wayland Fire Department continues annual Santa's Ride
The Wayland Firefighters Association's Santa's Ride occurred this year from Dec. 20-22, marking its 57th year of continuing this tradition. Despite the struggles of the pandemic, the fire department has found a way to make this year's ride safe for all Wayland residents.
President of the Wayland Fire Association, Bob Dorey, and his team have created a safe way to run this ride. The association issued a press release to implement social distancing and mask-wearing rules. Each night, the team departed from the Wayland Fire Department Headquarters at 5 p.m. and then continued their planned route through Wayland.
"We sat around the table, we brainstormed and figured this was the safest way to make it happen," Dorey said.
This year's ride will be taking place over a span of three days. The fire department drove a fire truck through a specific route they created. Santa and his team stayed on the fire engine and did not stop to meet with children for safety reasons. The route Santa's Ride followed covered many more streets than in previous years so more residents could see Santa without congregating at the usual stops.
"The normal way we usually do it is Santa stops and gets off the fire engine," Dorey said. "It's going to be different, and we're adapting. We are trying to bring some cheerfulness to this environment."
Dorey has worked with the Wayland Fire Association for about 25 years. He enjoys seeing families coming together each year to carry out this tradition.
"It's a really happy time, there're so many awesome things to it," Dorey said. "It's a tradition, and it's fun to see families that have come out for generations."
The secret of who Santa is this year has yet to be revealed. The fire department does not know how long this Santa has played his role. However, the truck used each year for the ride has been in use since 1953.
"There is usually a little of some healthy competition," Dorey said. "There have been times when people come up and say 'who's Santa?' And I always say, well, 'you know Santa is Santa.'"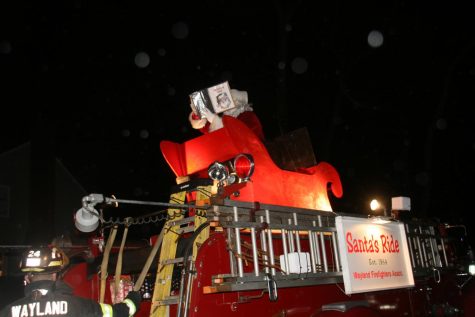 "What's actually pretty fun to see is communities that did it years ago, that got rid of it, bringing it back this year," Dorey said.
Many Wayland High School students have attended Santa's Ride in the past. Sophomore Jane Gargano and her family have been going for many years.
"I want to say I've been going for five years," Gargano said. "I used to go when I was little but now I go with my brother and my cousins."
Every year Wayland residents brave the cold weather to watch Santa's Ride through town on the firetruck. No matter how cold it gets, year after year, people wait in the streets with smiles on their faces excited to see Santa.
"I think people like Santa's Ride so much because it is easy to go to and you can go with everyone that lives near you," Gargano said. "I think that people [also] like it because all the [firefighters] that do it are really nice and it is set up really well."
The firefighters in Wayland were still able to make Santa's Ride happen with some adjustments, like not being able to sit on Santa's lap and not allowing onlookers to congregate. Even with these changes, people in Wayland still looked forward to seeing Santa drive by this holiday season.
"I think that [it] is really good [that Santa's Ride is still happening], especially with younger kids," Gargano said. "They tend to have a hard time with [COVID-19] because they can't do things that they normally do, so it will be nice for them to have some sense of normality."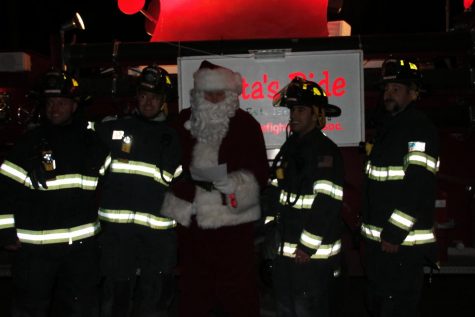 Even though Santa's Ride was able to adapt for COVID-19, traditions will not be the same as normal years and many customs will be missed.
"I'm going to miss seeing my cousins because normally we walk down together," Gargano said. "This year I have not been able to see them that much and especially during the holidays it is disappointing."
Like Gargano, sophomore Charlotte Richter has also enjoyed this tradition through the years and watching Santa's Ride pass by her house on Monday evening.
"When I was younger, I was always excited to see Santa in Santa's Ride," Richter said.
The firefighters are aware that this year will not be like the others. However, their number one priority is keeping Wayland residents safe. The fire department hopes the ride brought joy to as many or even more people than it did in prior years.
"Santa himself loves the magic of when the little kids come, and we wanted the tradition to continue," Dorey said. "We wanted to send happiness to people with everything going on."
Leave a Comment
About the Contributors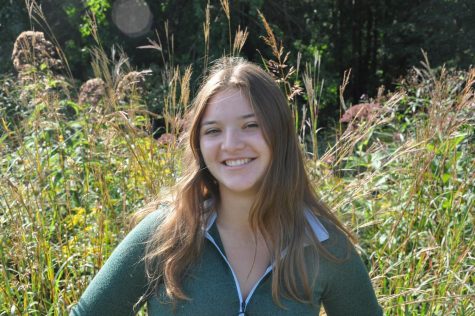 Sophia Oppenheim, Copy Editor
Sophia Oppenheim, Class of 2023, is a second year reporter and copy editor for WSPN. She is part of the WHS field hockey team and girls swim team. Outside...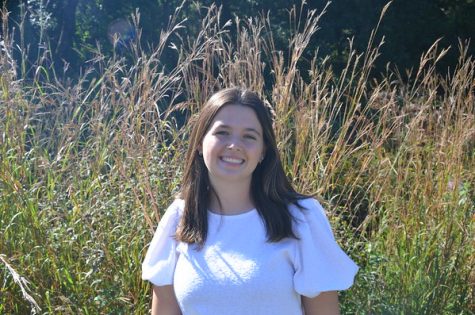 Tess Alongi, News Editor
Tess Alongi, Class of 2023, is a second year reporter and news editor of WSPN. She plays for the high school's softball team. Outside of school, she...