News Brief: Wayland superintendent's update on snow days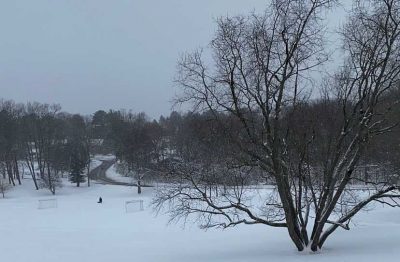 After the decision to make Thursday, Dec. 17 a remote learning day for all students due to inclement weather causing power outages for multiple families, Superintendent Arthur Unobskey along with the Wayland School Committee have decided that they will maintain the flexibility to decide what type of snow day the Wayland Public Schools will have if there is a significant storm.
"During a significant storm, I will make the decision about whether we have a traditional snow day or a transition-to-remote on a case-by-case basis as opposed to having transition-to-remote be the default expectation," Unobskey said in an email to Wayland families and staff.
The reasoning behind this decision are as follows:
Power Outages: Even though winds were low and snow was light, about 100 families lost power, making it impossible for those students to participate remotely.
Curriculum Coverage: 34% of teachers reported that they covered less content than they would have in person.
The Challenge of Rapid Transitioning: Particularly at the elementary level, teachers reported significant challenges in transitioning within hours to transform an effective lesson to an on-line form.
Desire to Hold onto the Fun of a Snow Day: Parents and staff reported great longing for students to have a traditional snow day with no school partly because of burn out from more Zoom time.
Extending the Year Might Be a Positive: Having extra days added onto the school year in this COVID context adds more in-person time at the end of the year.
In his email, Unobskey explains that if there are frequent storms in the coming months then it is more likely than not that the Wayland Public Schools will have a remote learning day, but there is still a possibility of a traditional snow day where there are no classes.