Beneath the Surface: TEDxYouth Webinar gives students a forum to voice what they cannot on social media
The TEDx Core team believes that the upcoming TEDxYouth event will be an opportunity for WHS to showcase the voices and stories of its students. Senior Aydan McGah was inspired by her mother, who organized TEDx events at WHS five and six years ago, to start the student-led TEDx Core team.
"We wanted to be able to provide this platform for students to share topics they think are worth spreading and to spark conversation in the community," McGah said. "I hope that students take away the importance of our voices and how important it is to speak up on issues we see or face."
"I think in Wayland it's very easy to believe most people have perfect lives and come from perfect families because of how we portray ourselves on social media, but hopefully through this event, students can take away that there is more under the surface to each person and we can't always assume anything," McGah said.
Behind the scenes, the TEDx Core team (seniors McGah, Charlotte Salitsky, Emily O'Shaughnessy and David Lathan, junior Ben Chen and alumni Fatma Sayeh and Charlie Moore) are responsible for planning the event. They carefully reviewed 20 applications in anticipation of the event in order to find the most compelling speech ideas.
"We dedicated a whole day looking over the applicants and voting on who our choices were and then slowly narrowing them down," McGah said. "Some of the criteria in the talks were that they needed to have a strong main idea, but also a good personal story behind it. A lot of people had one or the other, but we were looking for students with both."
The TEDxYouth Webinar, open to all WHS students, will feature WHS alumnus Shawn Bernier. He hopes to inspire others through his TedTalk about self discovery titled "Own Who You Are."
"My talk is about the journey I took to develop who I am and how the risk of being an 'outcast' didn't deter me from embracing myself," Bernier said. "It was a lesson that I learned about how powerful the voice of the under-heard or underrepresented can be and how to use that to facilitate change in my life as well as others, as a domino effect."
Along with Bernier, WHS alumnus Jenna Martin and current students Alyssa Chow and Daniel Bede will also speak. Chow's talk, "Your Stuff and the Global Hazards it Causes," raises concern about how "just an ordinary person" has a larger impact on climate change than they might think.
"[My talk is] mostly about palm oil, its impacts, and how most people don't know how widespread it is in their homes," Chow said.
In preparation for the event, which is a Zoom-held webinar this year, the student speakers worked hard to develop thoughtful and effective TedTalks with the help of parent and teacher coaches.
"The process definitely wasn't linear," Chow said. "The talk went from existing as colorful sticky notes on cardboard, to a google doc, index cards and finally to its final form on a sheet of paper with other pieces paper-clipped to it. But with a lot of help from my coach, I was able to build on the talk more and more every step of the way."
The original TEDxYouth event was to take place in May 2020. The TEDxYouth team planned an in-person show, which was then postponed because of COVID-19. Through teamwork and adaptation, the TEDxYouth team avoided the event's cancelation. It is now scheduled to take place on March 21 at 3 p.m. via Zoom. The webinar will feature student TedTalks, a guest speaker and musical performances by seniors Ben Clifford and Bec Patsenker.
"On the Zoom webinar, we will be showing the recorded videos of the talks and musical performances, and we will give introductions to each one in between," McGah said. "The attendees will only be able to see the Core Team and our shared screen during the webinar."
The TEDxYouth team faced unexpected and unwelcome obstacles throughout the organization process. However, they remained steadfast in their goal for the event: to give a platform to students who deserve to share their stories with others.
Leave a Comment
Donate to Wayland Student Press
Your donation will support the student journalists of Wayland High School. Your contribution will allow us to purchase equipment, cover our annual website hosting costs and sponsor admission and traveling costs for the annual JEA journalism convention.
About the Contributor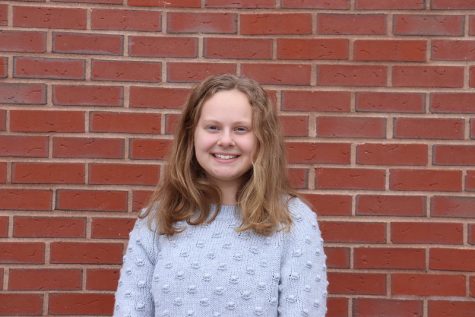 Isabella Ciasullo, Staff Reporter
Isabella Ciasullo, Class of 2023, is a first year reporter for WSPN. She's part of the high school's cross country team. Outside of school, she enjoys...