Fall II sports recap
As the Fall II athletic season comes to a close, the WHS teams that competed in the month-and-a-half long time slot have been able to reflect on their seasons. While athletes and coaches alike attempted to overcome COVID-19 induced challenges to find success in their athletic endeavors, all came to appreciate that they participated in a season whatsoever.
Football:
The football team enjoyed a dominant season, winning five of their seven games. After preparing as a program for several months prior to the season, athletes were able to reap the benefits of their prolonged preseason.
"I believe the season went well," senior captain Shane DeRubeis said. "We ended with a [high] record, with [our only] two losses being very close games. The season went how I expected it to because we had many great games, and we were just a great team."
In contrast to previous years, the team won several games in "blowout" fashion, trouncing opponents by scores such as 38-7, 20-0, and 47-19. DeRubeis attributed the increase in such matches to the amount of effort the team had put into their practices.
"We had workouts and practices before the season started, and we just put in the work," DeRubeis said. "Along with that, our coaches [did] a great job preparing us for each game, which gave us an advantage going into many [matches]."
In addition to their regular-season matchups, football planned to compete in a postseason tournament. However, after the format of the tournament was altered from a traditional knockout competition to a two-team championship match, DeRubeis and his teammates no longer had the opportunity to vie for silverware.
"Unfortunately, we were not picked for [the postseason championship]," DeRubeis said. "I [was] disappointed we did not get a chance to play in what was supposed to be a tournament, but I was so glad I got to have a final ride with my teammates and coaches."
In lieu of an official tournament, the team scheduled a final fixture against Holliston. The Warriors won the contest, 39-36, in classic come-from-behind fashion.
"My favorite moment of the season was definitely coming back to win our final game against Holliston," DeRubeis said. "They came out strong and got a big lead on us, but we continued to fight throughout the game and ended up winning. We got to show how good we were."
Girls Volleyball:
Continuing the trend of competitive success, the girls volleyball team also won a large majority of their fixtures, finishing the season having only lost a singular match. They also found triumph in their postseason tournament.
"We finished the regular season with a 5-1 record, which is the best record in program history," senior captain Mira Ireland said. "We made it to the semifinals of the DCL championship."
However, to attain such success, the team was forced to overcome numerous challenges. Ireland noted that it was very difficult for the team to continue certain traditions, such as celebrating after each point that they won.
"[In a typical year], you would see how the team on the court comes together in the middle after every point," Ireland said. "This is to keep positivity and energy. [The COVID-19 pandemic] made this difficult for us because we couldn't do that in the same way."
Winter Track:
As a result of the modifications made to the winter track team's season, athletes couldn't able to participate in competitive meets. Thus, many utilized the season to prepare themselves for future seasons, or even different sports entirely.
"Even though this track season wasn't normal because we did not have meets, I still joined because I knew it would be a great way to get in shape for tennis in the spring season," sophomore Eric Hiebert said. "I also thought that I could carry that momentum into the summer to get in shape for soccer in the fall."
Despite the fact that the DCL held no official competitions, the track team gauged their performance by conducting inter-squad meets, as well as informal "scrimmages" against other towns.
"I think the inter-squad and competitive meets absolutely helped because we could see how much faster we got over the course of the season," Hiebert said. "It helped us stay motivated because we saw the results that we wanted."
Cheerleading:
The cheerleading team was perhaps the group that faced the most challenges with regard to the shortened season. The team was required to learn all of the routines that they typically would, in around half the time of a regular season.
"These girls were given a task that in any other season would have been impossible," WHS cheerleading coach Kristen Saia said. "They had to not only learn all of the game material but learn and perfect a competition routine in six weeks."
In the DCL cheerleading competition, the Warriors performed exceptionally well, only just missing out on the first place spot.
"[The team] went on to compete at the DCL competition," Saia said. "A deduction, unfortunately, kept them out of first place, but even with the deduction, they were only .1 [points] away from the first-place team. It was such an amazing testament to the hard work this team put in."
Even after having to cope with the hyper-accelerated pace of the season, Saia still felt that the season was an undeniable success.
"Even though this year was different, it was also one of my favorite seasons I have ever coached," Saia said. "The team stepped up this year."
Leave a Comment
Donate to Wayland Student Press
Your donation will support the student journalists of Wayland High School. Your contribution will allow us to purchase equipment, cover our annual website hosting costs and sponsor admission and traveling costs for the annual JEA journalism convention.
About the Contributors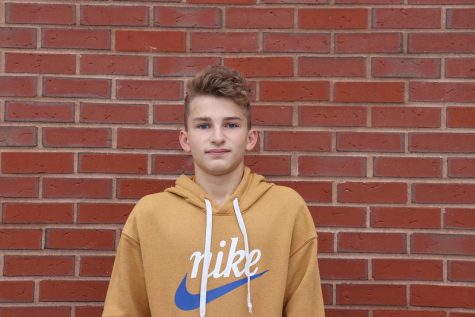 Michael Nechipurenko, Staff Reporter
Michael Nechipurenko, Class of 2023, is a first year reporter for WSPN. He plays for the high school's soccer team. Outside of school, he enjoys reading...
Charlotte Thirman, Co-Multimedia Editor
Charlotte Thirman, Class of 2023, is a third year reporter for WSPN and co-editor of multimedia. She plays on the school's field hockey team. Outside...