Wayland Turf Wars: Oct. special town meeting
One thing that many Wayland citizens agree on is that Wayland lacks the necessary number of fields to manage running youth leagues, high school teams and adult leagues. For years, the infamous turf vs. grass fight has been the talk of the town, and Wayland citizens debated and voted on the issue of fields. Town meetings throughout the years have contained articles to build new turf fields in Wayland, but so far none have passed with the two-thirds majority needed.
Monday, Aug. 30, 2021, The Board of Selectmen voted to open the warrant for a special town meeting that is set to take place Sunday, Oct. 3, 2021. This special town meeting was called because of a petition that vows for no construction of synthetic turf fields in Wayland for three years. When a petition for a special town meeting is submitted with at least 400 signatures, Wayland is required to have a special town meeting.
"As you may know, the elements within the recreation department have been pushing for an artificial turf field for well over four years now," lead petitioner Paul Dale said. "Voters have twice turned down funding for that at town meetings. There is a significant concern within a significant number of voters at this time that they might try again in one way or another to fund a synthetic turf field, so there is a strong emphasis to execute this moratorium to make sure that that possibility is taken off the table."
Dale, and others who are against the turf, claim that the petition and the moratorium were created because of rumors that members of Wayland were trying to privately fund a turf field. Rec Committee member Leanne Mason states that this was not happening and is not happy with how this special town meeting came to be.
"From my perspective, and from the perspective of the Rec Committee, we were very surprised this happened because we thought we had a very productive meeting with Paul and others who were saying they wanted to work together," Mason said. "When the special meeting came up for a moratorium on turf, it was not only confusing, but really was done in a way that undermined my integrity as an elected official by saying there was [private funding] going on, and that really was upsetting to me. As someone who wants to serve their town and honestly as someone who has a Ph.D. in American Politics, my entire career is based on legitimacy with the government, so that is hard too. Unfortunately, when no one reaches out and tries to get both sides of something [if private funding was actually happening], this is what happens."
The main reason that many stated their opposition to the building of turf fields is that they are concerned about the turf having negative environmental and health impacts.
"There are enormous benefits to taking [synthetic turf] off the table in addition to removing the various environmental and climate impact and health concerns," Dale said. "There has been a long long list of environmental concerns directly associated with synthetic turf. There is certainly a risk of PFAS contamination [in] our water supply."
Although Dale expressed his concerns about the correlation between PFAS and the synthetic turf fields, there is evidence to disprove that concern. The Wayland engineering contractors, Weston and Sampson, believe the high PFAS levels stemmed from both the former Wayland High School septic system and the unusually high precipitation rate in summer 2021. In addition, Dale also notes that the manufacturer of the turf has claimed to not use PFAS chemicals in the turf.
"I can also add to that that the turf vendor has made statements saying, 'we don't use PFAS,' but I will also note that the vendor is not guaranteeing there is no PFAS in the field materials that they deployed," Dale said. "They offer guarantees on lots of other things like the grass will not deteriorate through UV radiation, but they are not able or willing to guarantee as manufacturers that there is no PFAS."
Dale also mentioned another concern that is often voiced by the opposers of turf fields: cancer. Dale spoke about his beliefs that there are cancer-causing chemicals in synthetic turf.
"No, I personally do not [know of any individuals who have been diagnosed with cancer and attributed it to playing on turf]," Dale said. "A lot of the cancers that have developed as a result of the exposure to some of the chemicals that are known to be in the crumb rubber, those cancers might not appear for 15 to 20 years, so it is very, very hard from a laboratory analysis standpoint to state conclusively that these chemicals in the crumb rubber cause cancer. By the time 15 years have gone by, there could be many other factors. We can't wait 15 years for that, so again it comes back in my mind to a question of what risks are you willing to take."
Mason attributes the failure to pass a turf field to the many environmental and health issues that are present in both Wayland and nationality.
"Like everything in politics, it kind of was the perfect storm," Mason said. "We had the PFAS situation with the water come up, so if you were concerned about environmental issues that was a way to say, this is just another reason we need to be concerned about turf fields. If you think about the pandemic and spending money, folks were like 'why is this a priority now and not something else.' And quite honestly, it had been voted on and had lost by 15 votes before the pandemic and then the momentum kind of slowed down a little bit and all these other factors, pandemic, PFAS, it becomes harder and harder to pass something like this. What's unfortunate about it is there is this language about how folks are trying to fundraise that doesn't do any good. We still do not have enough fields."
After the three-year moratorium on turf fields was submitted to the board of selectmen, they started to discuss the need for additional fields, regardless of the surface. Due to prior failed attempts to have a turf field constructed, the board of selectmen introduced three articles requesting the construction of three new grass fields.
"Our board felt that the most recent voter town meeting combined with the opportunity to insert articles given the special town meeting that has been called, persuaded our board to add the three articles that we did along with the recreation commission," Board of Selectmen Chair Thomas Fay said. "We had a great forum on Aug. 30 where people gave comments in person and online after listening to Katherine Brenna, the recreation director, talk about the need for fields in town and the many studies that have been done already to address how to fix that problem. I think some momentum came out of that meeting to take some action, so our board felt along with the recreation commission, let's strike while the iron is hot, let's have some discussion on the issue."
Former Wayland Youth Soccer President Reed Newton saw the impact the shortage of fields has on youth programs for multiple years.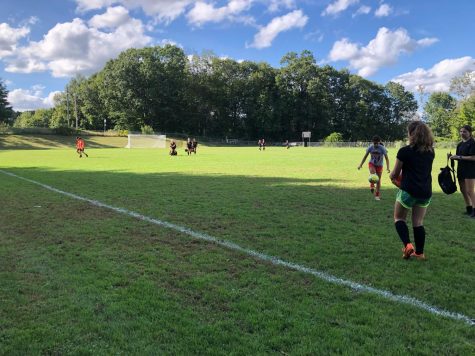 "I think [the lack of fields]is brutal," Newton said. "We often, even right now, have teams that are not practicing on the correct size field, which to some people might not seem like a big deal, but it can be. The biggest thing is that our fields are never able to get the proper rest so we end up with really poor field conditions and also sometimes we have three, maybe four teams practicing on one field at the same time, so it is just not an ideal situation."
Although three grass fields would help address the lack of fields in Wayland, many are concerned that these fields will not be properly maintained, leading to less than desirable playing conditions.
"I am going to do everything in my power to make sure that [the fields are maintained well]," Dale said. "Certainly, I think the first step would be to make sure we do not get into that position in the first place, so during the next three years we need to be paying careful attention as a town to what we are doing. Are we using the best techniques and making sure we keep records of what we do and don't do, and of what works and doesn't work, so that we do not get into that eventually?"
Fay agreed with Dale that in order for the grass fields to not get worn out, they have to be properly maintained. In addition, Fay believes additional grass fields will provide needed time for other fields to recover from overuse.
"I think [Wayland has the ability to properly maintain grass fields] if we are committed to it," Fay said. "It's a valid argument that if you are going to have the [grass] fields that you have to spend the money to maintain them. One of the advantages of having additional grass fields is we can rest fields periodically so they can last longer and frankly, be more effective as a playing area. It's nice to build them but if you maintain them they are not any good."
Mason believes the idea of new grass fields can work but has concerns regarding voter turnout. The town meeting will take place midday on Sunday, Oct. 3, which poses conflicts for families involved in youth sports.
"These three articles are a great idea, let's talk about them, but I don't know how many people are going to come to the town meeting," Mason said. "It's on a Sunday, and now guess what, all the games are away because we need to have [the meeting] outside, so we are voting on [fields] we need, while taking away field time from the kids."
Newton understands getting new fields built in Wayland has been and continues to be an uphill battle, but urges those in favor of the cause to continue the fight.
"I kind of joked about it a while ago, but sometimes it is not easy to put up a mailbox in town, there is always someone opposed to something," Newton said. "You try to just keep not giving up, because if we just stop fighting for more fields, sooner or later we will have no other options than to cut programs, and that is certainly not the route we want to be going.