Album Review: "Red (Taylor's Version)"
Album Review: Taylor Swift's "Red (Taylor's Version)"
After her re-recording of hit album "Fearless," Taylor Swift shocked us again with the announcement of a new project, "Red (Taylor's Version)"—a remake of her 2012 masterpiece, "Red." It's safe to say that the original, selling over 1.21 million copies in just a week, took the country by storm. The album captivated radio listeners, taking them on a journey from start to finish, full of heartbreak, anguish and vengeance.
Throughout the original release, easter eggs and hidden meanings underlined each track, with the occasional clue as to who it was written about. Swift made references about ex-boyfriends Jake Gyllenhaal, Conor Kennedy, Joe Jonas and possibly more. Fans of Swift—"Swifties"—have since been picking apart "Red (Taylor's Version)," hoping to dive deeper into the drama of her past love life through the 30 tracks. Yes, you read that right, 30 tracks!
When Swift originally signed with Big Machine Records, she gave the label ownership rights to her first six albums at age 15. 13 years later, she left Big Machine Records but was later deceived by ex-bully Scooter Braun, who bought her music in 2019 without her knowledge. In Nov. 2020, Swift announced she would re-record her first six studio albums, creating new master recordings and regaining her ownership of them. "Taylor's Version" refers to Swift finally claiming her work after over a decade of having her lyrics and melodies under another person's title. Some songs in the album touch on these experiences.
Swift released the album on Nov. 12, and long story short, it's great. After seven long months without new music from Swift, it's refreshing to hear some of the most nostalgic songs of our generation updated with a re-recording. Although it was previously designated as a country album through its various guitar and banjo elements, Swift herself describes it as an album for everybody, now putting it in the pop genre. Tracks like "We Are Never Ever Getting Back Together" and "I Knew You Were Trouble" are staples for a broader audience to blast out loud and sing along, reminiscent of "ME!" from Swift's seventh studio album "Lover."
Swift starts the album off with "State of Grace," a metaphor for the feeling at the beginning of a relationship. I originally had mixed feelings about a re-recording of the same album. How could it be so different? Right away, I noticed a difference in her voice. The maturity and tone in her singing has definitely changed in the past nine years. "State of Grace" is also seen at Track 20 but as an acoustic version. Toned down and with a stripped guitar instead of drums, this version is perfect for fans who love a good slow song.
Now, let's talk about one of the most anticipated songs on the album, the highly requested 10-minute "All Too Well." After first leaking that the original extended cut had over 10 minutes of lyrics, fans went wild, begging for its release. The song has been the fall anthem for many Swifties, and as a dedicated Swiftie myself, this has been one of my favorites she has ever released. I was hesitant about the idea of the length of the song at first, thinking it could be boring, but I shouldn't have doubted Swift. Her ability to story-tell is flawless, and each new verse fueled the fire of hatred toward Jake Gyllenhaal, Swift's ex-boyfriend. The song starts off with his "sweet disposition," and their happy moments, but their relationship quickly turns downhill after the second verse. The song covers each stage of grief, from denial to acceptance. After listening to the 10-minute version, the four minute one sounds incomplete. Particular lyrics that stuck with me were "and [my father] said, 'it's supposed to be fun, turning 21'" and "I'll get older, but your lovers stay my age." These lyrics blatantly attack Gyllenhaal for when he ditched Swift's 21st birthday party, and how he claimed their relationship issues were built on the age difference, but continues to date 20-year-olds. Along with all 10 minutes and 13 seconds of the song, Swift directed and produced a short film that was released the next day, starring Sadie Sink and Dylan O'Brien. Watching it made me feel as though I was there, with the "autumn leaves falling down like pieces into place." It's safe to say that this was a masterpiece, and hopefully Swift will continue to explore her future in film-making.
After first meeting in 2012, Swift and Ed Sheeran's friendship has flourished throughout the years. Now, the duo has come together to re-record "Everything Has Changed," a song they previously wrote together while sitting on a trampoline. This pop-folk song gives us a nostalgic feeling of growing up. Both vocals contain an air of maturity and confidence, making the song sound more complete, especially when Sheeran's soft tenor takes over in the second verse. Their talk on the trampoline also created "Run," where the duel vocals complement each other once again in a refreshing, yet comforting, feel.
Two of the "From The Vault" songs on the album were both originally penned for other major country artists. Swift wrote "Better Man" in 2016 which was intended to go on the original "Red." However, Swift sent the song to Little Big Town, a band she looked up to as a young artist, and it soon won many awards under them. Now being Track 22 on "Red (Taylor's Verizon)," she gives listeners the vision she might have originally had in her head. "From The Vault" songs like "Message In A Bottle" and "The Very First Night" also remind us of her former pop star self.
Similarly, Chris Stapleton is famously known for writing songs for other artists. Swift collaborated with him on a song called "I Bet You Think About Me." This country ballad gives us flashbacks from Swift's Nashville days with instrumentals of the banjo and harmonica. While Stapleton brings a rough edge to the song, his and Swift's voices don't gel in the same sweetness of her and Sheeran's. This song relies on her voice, and the listener's patience, for the five minute emotional tune.
"Nothing New" is Track 23, and it features Phoebe Bridgers, an alternative artist who I was very excited to see on the track list. It's undeniable how well their vocals mesh together in this folky tune in a style more similar to Bridgers'. The lyrics hit me first, and the first verse might be one of my favorite set of lyrics I've ever heard from Swift. The artists reference the stigma of being a young girl in the music industry, constantly with high expectations and eyes all over them watching their every move. The lyric "will you still want me, when I'm nothing new" shows the ultimate pressure artists have to stay relevant, even when they're still finding themselves. This is easily my favorite song off the album.
A message from the writers:
"It was all over the place, a fractured mosaic of feelings that somehow all fit together in the end," Swift said. "Happy, free, confused, lonely, devastated, euphoric, wild, and tortured by memories." Swift couldn't have worded it better. As many Swiftes know, Swift's albums are one heck of an emotional rollercoaster. This one was no different, twisting and turning our feelings upside down and backwards. "Red (Taylor's Version)" symbolizes each song with parts of a relationship, from the happy moments, up until the heartbreak and remembrance. This is the kind of record that is only fully experienced once you listen from start to finish. Whether or not you are a fan of Taylor Swift, this album will make you feel something.
Leave a Comment
Donate to Wayland Student Press
Your donation will support the student journalists of Wayland High School. Your contribution will allow us to purchase equipment, cover our annual website hosting costs and sponsor admission and traveling costs for the annual JEA journalism convention.
About the Contributors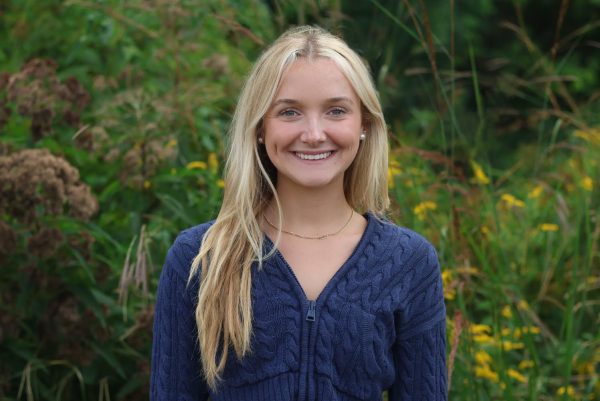 Talia Macchi, Co-Editor-in-Chief
Talia Macchi, Class of 2024, is a third year reporter and a Co-Editor-in-Chief for WSPN. She is a field hockey captain and a Window Dance Ensemble director...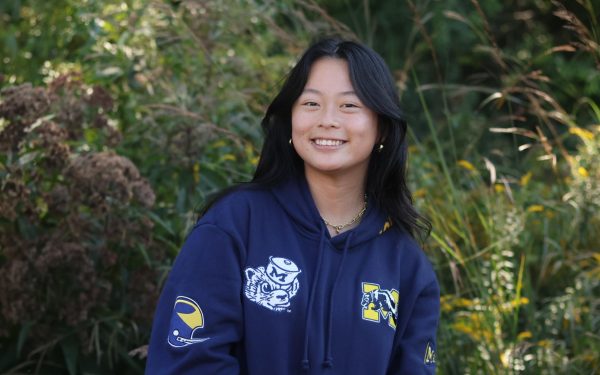 Hallie Luo, Co-Multimedia Editor
Hallie Luo, Class of 2024, is a third year reporter and Co-Multimedia Editor for WSPN. She is also Student Council Treasurer and the manager of the girls...