Wayland Youth Basketball returns from year-long hiatus
It's been a little over a year since the Wayland Youth Basketball Association (WYBA) announced that the 2020-21 season would be canceled. With that, it's been nearly two years since kids in Wayland were last on the court wearing the orange and black. But this year in their recent season update, the WYBA has announced that the 2021-22 season will run.
WYBA oversees all youth basketball in Wayland, and they offer four different programs that kids in kindergarten to eighth grade can participate in. The K-2 program teaches kids the fundamentals of basketball. Tri-Town is a more recreational league that consists of teams from three towns: Wayland, Weston and Lincoln. The Sudbury League is an "intermediate" league, which consists of teams from only Sudbury and Wayland. MetroWest is the most competitive league that consists of various teams from towns and cities all over the MetroWest area.
"I am very excited for the season this year," WYBA President Leanne Mason said. "Sports are such an important part of young people's lives and provide order and fun in a pretty chaotic world."
Wayland was one of about half of the towns in the MetroWest league that decided to forgo last year's season. Other surrounding towns like Framingham, Natick, Waltham and Needham decided otherwise. Being a whole year behind some of their opponents could potentially have negative effects and prove to be a substantial challenge for Wayland teams.
"The year off has absolutely had an impact, skills-wise, for the kids," an anonymous coach said. "For children who don't play AAU basketball, the year off means not having played in a game for a year plus. The Wayland kids are behind from a basketball perspective as many other towns played last season. [However,] I'm just happy to have a season this year as so many children and adults missed MetroWest basketball."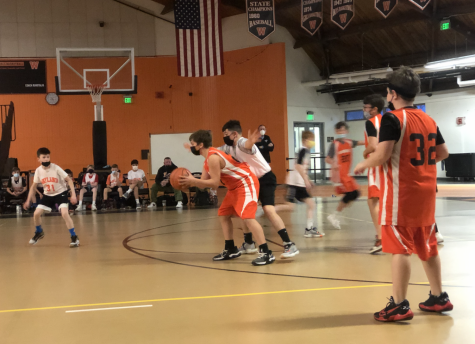 A lot went into that decision to cancel last year's season, but ultimately the safety of everyone involved in the program was the number one priority of the WYBA.
"We were following guidelines from the Wayland Public Health department as well as the Massachusetts Department of Elementary and Secondary Education (DESE)," Mason said. "This was the right decision for Wayland Youth Basketball, since there were no vaccines and [COVID-19] numbers were very high last winter."
This season will not look the same as what has occurred in the normal seasons of years of the past. It poses a logistical challenge for WYBA with the balancing of the short supply of public gym space, the Town of Wayland's mask policy for all public school buildings and the continuing existence of COVID-19.
"It will be different," Mason said. "Anyone playing, coaching or watching in a school gym will have to wear a mask no matter what town or city you are in. We are practicing at some private schools this year, and we are not able to run our very popular K-2 program this year because of a lack of gym space."
Sports allow for children to get great exercise, learn valuable lessons about teamwork and problem solving and strengthen old and build new friendships.
"I am super excited to be back playing again," seventh-grade player Sadie Alongi said. "I missed playing actual basketball last year and a lot of my close friends play basketball so it's a lot of fun to be on a team with them."