Christmas tree shortage plants itself in Wayland
Over the past years, there has been a nationwide shortage of Christmas trees. This winter in Wayland, the shortage has families scrambling to find their dream tree. Visiting farm after farm, families begin to wonder if the Grinch rolled his big, red sleigh into town and stole all the Christmas trees.
The supply chain disaster caused by the COVID-19 pandemic has sprinkled across the country, causing many consumer goods to become scarce. A lack of workers with increased costs has resulted in slower shipping and raised prices. As with many other holiday products that are hard to come by, Christmas trees are impacted. Surprisingly, COVID-19 is not the sole contributor to the shortage of Christmas trees.
"Yes, there is a shortage because the Christmas tree farmers are having trouble getting labor," Wayland Russell's Garden Center fourth generation director Elizabeth Russell-Skehan said. "But, there has been a minor shortage for a while."
It takes about seven to eight years for a pine to grow to a marketable height. When the trees used for this holiday season were grown several years ago, the farmers did not have enough money to keep their fields growing due to the fact that they were planting more trees than they could sell. This forced the farmers to stop growing trees which led to a 10% decline of the harvest. The 2008 recessions exacerbated the farmers' struggles, causing many older farmers to quit or retire.
"So [the shortage] has a little to do with COVID-19, but it has more to do with the problems seven to eight years ago." Russell-Skehan said.
Furthermore, climate change has recently caused a tremendous amount of damage to the trees. Last spring, a major source of the Northeast's tree supply, a crop in Quebec, got hit with heavy unexpected frost. In addition, extreme heat and wildfires fried an abundance of trees in the Northwest over the summer. One farm in Oregon even lost 70% of their seedlings due to the 100-degree plus weather.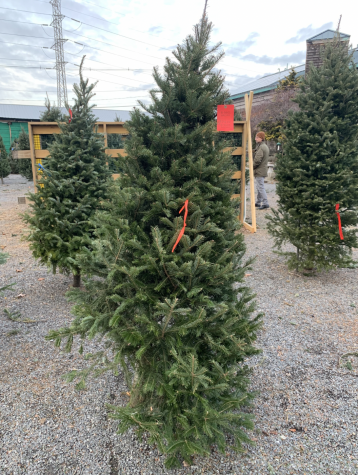 Fortunately, Russells started off their Christmas season the week prior to Thanksgiving with 3,400 trees, their normal quota. However, the income was different. The trees' prices were higher, and they weren't able to obtain many Frasier Firs, the most popular holiday plant. This forced them to substitute the Frasier Fir for other varieties which seemed to affect customers hoping for a stronger, taller tree.
"My family normally gets a very large tree, around 15 feet tall, but this year the tallest trees were only 12 feet tall," sophomore Lilly O'Driscoll said. "Not having a very large tree was a little disappointing to my siblings and I."
Other customers; however, were happy to just find a decent tree.
"We found a healthy tree and I'm really pleased with it," Russell's customer and Wayland citizen Amanda Melander said. "I did notice that there were fewer trees at the garden center, and they seemed to be a little more expensive than typical."
Just like everything else these days, the trees are more expensive. Trees are around 5% to 10% costlier than previous years. The major reason for this is the increased prices of transportation caused by the struggles of the pandemic. As a result, customers are turning to another option: artificial Christmas trees.
"I considered buying an artificial tree." Melander said. "They looked so natural in the store, but then I realized I would miss the fresh cut smell and tradition."
Despite the lack of the pure holiday scent, the purchase of an artificial tree is beneficial as the supply issue will likely linger beyond 2021. With a higher carbon footprint compared to natural pines; however, artificial trees are bound to damage the environment in the long run.
"The shortage of Christmas trees is probably going to continue for many more years," Russell-Skehan said.
With previous recessions, climate change and the economic phenomenon of 2021, most are accepting that maybe a Charlie Brown tree isn't so bad after all.
"The tree shortage impacted some of my family's Christmas traditions, but we expect to have a great holiday anyway," O'Driscoll said.