Fashionista of the Month: May
Name: Maya Noyes
Grade: Freshman
Favorite store: "Any thrift store, but specifically Boomerangs in the Cambridge central square."
Online shopping or in-store? "In-store for sure. I find it a lot easier, and online shopping can be deceiving."
Fashion icon: "Nadia Calder."
Outfit: Like most of Noyes's closet, her pink midi skirt is thrifted along with her black lace bralette top. She threw on a brown zip-up from Brandy Melville to keep warm while walking around the city. For accessories, Noyes wore thrifted necklaces and rings from various thrift stores. To pull the outfit together, she wore classic black Doc Martens.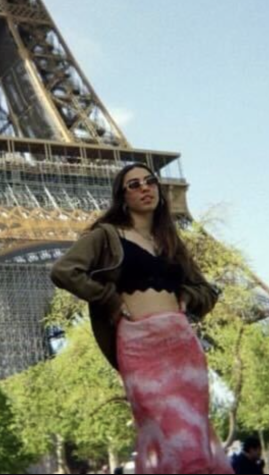 Favorite season: "Summer is my favorite season, but the fall is my favorite season for outfits."
Design time: "It takes me anywhere from five minutes to 20 minutes to make an outfit."
Favorite article of clothing: "Any of my classic low waisted baggy jeans are always a go to for me. I normally pair them with a fun accent top."
Style word: "Funky? It really depends on the day, but overall my style is a mix of that 80s look with a lot of Y2K pieces."
Fashion-challenged advice: "Try to find the pieces that you feel the most confident in, and don't be afraid to wear things that you don't normally see on your peers. Different styles that are from outside of the box are what stand out in a crowd."
What does fashion mean to you? "I think fashion is a great way to express yourself through clothing and a fun way to show the artistic side of someone when you see the way someone pairs colors and patterns together. It's also just a fun thing to do when you wake up in the morning and throw together an outfit."
Name: Brandon Jenkins
Grade: Sophomore
Favorite store: "My favorite store is Pacsun because it's so versatile and has a lot of different types of clothes."
Online shopping or in-store? "I like shopping in the store rather than online because I'm very impatient, and I like trying stuff on."
Fashion icon: "It's probably just me. I just pick my own stuff out because I like to wear it. But also, my dad is my fashion icon because he is very up to date and he is trendy."
Outfit: He is wearing a black tee shirt with a polo sweater overtop. On the bottom, he is wearing black Nike 5 inch inseam shorts, and his sneakers are Oreo 550 New Balances.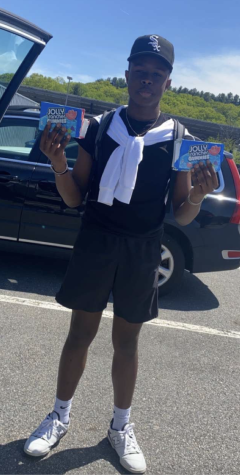 Favorite season: "My favorite is winter because I get to wear my North Face black puffer. I feel like pants look better than shorts, and they are easier to style in an outfit."
Design time: "I pick out my outfits the night before. If the fit doesn't flow in the morning, I get mad."
Favorite article of clothing: "My black puffer jacket is my favorite article of clothing because you can wear it with anything and it looks good. I am getting another one next winter without the hood."
Style word: "Chic because I am on trend and I like neutral colors."
Fashion-challenged advice: "I think it's more confidence. Confidence is key. At the end of the day, it's what you're wearing and what you like, so if you wear what you want, then you are creating your own style."
What does fashion mean to you? "To me, fashion means wearing what you want to wear and enjoying what you are wearing."