WHS: The school that never sleeps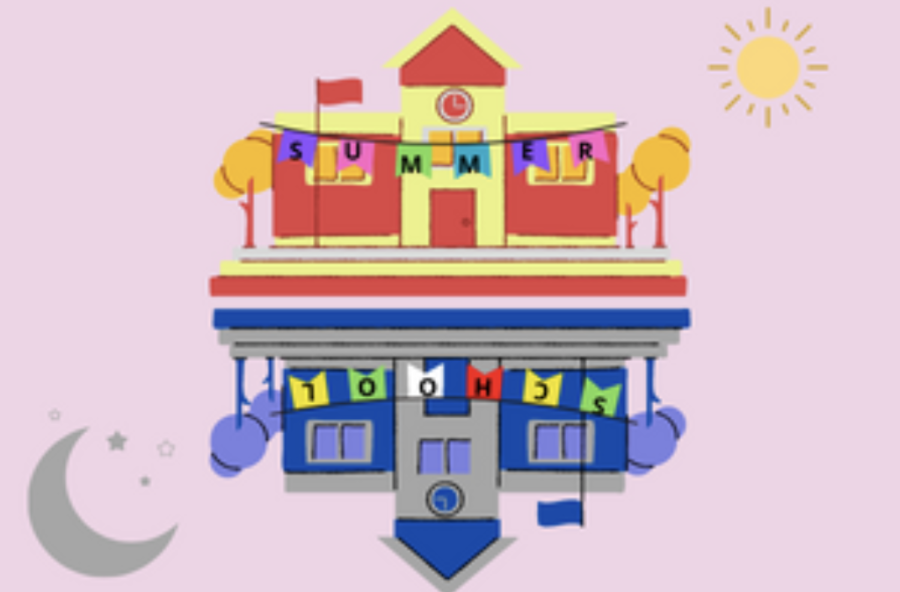 From June through August, events including Summer Adventure, flag football camp, Summer Bridge Program and captain's practices occurred at Wayland High School. These events filled the WHS campus with life even while school was not in session.
Captain's practices started off the summer at WHS. The captains of each sports team decided whether they wanted their teammates to practice in the morning or the evening. Outdoor practices occurred at one of the three fields located throughout the school's campus, which allowed different sports to practice at the same time without interfering with one another. Students who are planning to play a fall sport were encouraged to attend captain's practices in order to feel prepared for the coming season and meet their fellow teammates.
"[Captain's practices] help freshmen create connections with the upperclassmen before the season starts," senior and field hockey captain Jun Waye said. "Coming to captain's practices also helps them get an idea of what tryouts and a typical practice will look like when the season starts."
For the captains of WHS sports teams, a crucial aspect of the captain's practices is to give new players a full understanding of what is expected on a high school sports team.
"Captain's practices make sure that when [players] go into the [sports] season, they don't feel caught off guard," senior and varsity football player Jake Zocco said. "They know what the expectations are and what [the season will be like]. That way, the coaches are happy and everything runs smoothly when we start the season."
Several fall sports teams decided to hold captains practices, including field hockey, soccer, football and volleyball. The volleyball team ran their captain's practices inside the WHS field house, while the soccer and football teams utilized the outdoor fields.
While captain's practices were facilitated at the field house and outdoor fields, summer camps run by the Wayland Recreation Department also took place at WHS. These camps allowed children to fill up their summer days with swimming, sports and counselor-led activities, while also exploring an academic environment.
A town favorite every summer is Summer Adventure, a day camp that ran in the north building of WHS for students in kindergarten through fifth grade. At Summer Adventure, campers enjoyed indoor and outdoor activities, dress-up days, theme activities, field trips, and day trips to the Wayland Town Beach and Community Pool.
Many incoming juniors and seniors at WHS decided to be counselors at Summer Adventure. While only those who turned 16 before the beginning of July were allowed to apply to be a counselor, a counselor-in-training (CIT) position was available to incoming freshmen who wanted to become counselors in the future or simply wanted the experience.
"I loved working with kids, and I also loved [spending time with] my coworkers," junior and Summer Adventure counselor Abby Wrentmore said. "Everyone came into work happy to be there, which made me look forward to work every morning. Getting to know new people and building new relationships was an amazing experience."
In addition to Summer Adventure, history teacher and football coach Sean Chase and wellness teacher and football coach Scott Parseghian ran a flag football camp for students in second through eighth grade. The camp allowed children to remain active during the summertime and experience a fun activity with classmates and friends.
"[The camp] allows us to form really deep connections in the community and develop relationships that aren't only professional, but simply friendly," Chase said. "Long term, it has also enabled Wayland High School to continue to have and feel the football program."
The Summer Bridge program is a program designed for incoming freshmen in order to ease the transition to high school, while also boosting students' academic skills. The program was held in the south building of WHS to acclimate students to a high school environment.
The Summer Bridge Program incorporated incoming WHS sophomore, junior and senior peer mentors to give incoming freshmen a chance to ask mentors about their own experiences.
"Just knowing that [the mentors] are volunteering their time and that they want to be there [makes them] a great resource [and] less intimidating to talk to," Summer Bridge mentor leader and senior Madeline O'Leary said. "Talking to students who are experiencing [high school] at the same time as you is really nice."
Spanning from sports camps to high school preparation, Wayland High School had no shortage of activities and events happening throughout the summer.
"I'm basically at WHS every day [and] it is still humming during the summer," Chase said.