WHS spring sports preview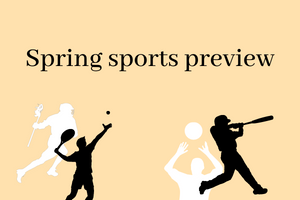 As the snow melts and the weather warms up, the spring sports season is here! Beginning in March, Wayland High School has a wide variety of spring sports for students to participate in.
Girls Tennis:
Wayland has both a girls and boys tennis team, which are both held in spring. Tennis is a popular sport at WHS, with a lot of students trying out each year. Because of this, it is competitive to earn a spot on the junior varsity or varsity roster.
"When we had tryouts last spring, I felt like there were a lot of cuts that were made," junior Kyra Spooner said. "Even though I get to play for myself during the matches, it is nice to joke around with my team and bond during practices."
Boys Tennis:
Boys tennis had a successful season last year, winning the Division III State Championship. Similar to girls tennis, boys tennis has both a varsity and junior varsity team, with each team having around eight people to play in each match. Shawn Powers is the head coach of the boys tennis team.
"This season I am hoping that we win another state championship and continue our streak," senior Ryan Prince said.
Softball:
Softball is led by head coach Jessica Alvarez and four captains, seniors Genevieve Morrison, Allie Chase and Maya Lee and sophomore Annabelle Roberts. The team held an informational meeting after school on March 8.
"The team is looking good," senior captain Allie Chase said. "We are excited to start the season and at tryouts just put it all out on the line and give maximum effort."
Baseball:
The baseball team is under new leadership this season. Along with two new senior captains, Austin Russell and Derek Roberts, the team will welcome first year head coach Chris Fay to the dugout. Tryouts will be held from 6:30 p.m. to 8:30 p.m. in the field house this week.
"I started playing [baseball] on the little league team, and I really enjoyed it," sophomore Luke Chisum said. "My favorite position is pitching because it is a one-on-one competition. Baseball is definitely my favorite sport."
Track & Field: 
From sprints to distance to throwing, the WHS outdoor track and field team offers a variety of events catered towards a wide range of student athletes. Practices are held right after school and the team is coached by head coach Allison LaClaire.
"I love our team dynamic because we all work together as one cohesive unit, even though we are not running events specifically with each other," junior Giovanni Sebastianelli said. "We still work together as if we are a big friend group, and I love spending time with my team."
Girls Lacrosse:
Girls lacrosse will begin on March 20 with a full week of tryouts under the leadership of head coach Ashley Means. The girls lacrosse team had a very long playoff run last season, making it into the semi finals and falling to Bedford in its final game. Going into the new season, it hopes to make it further into the playoffs.
"My favorite thing about playing a sport is the team dynamic," senior Jessie Feist said. "I love it when we all band off the field and it makes us better players on the field. I am really excited to get to know the new players this year."
Boys Lacrosse:
Along with the girls team, the boys lacrosse team will start in March. The team graduated a lot of seniors last year, but despite losing numbers, some players are eager to get on the field and start playing. The team is led by head coach Avyay Chaganty.
"I am really looking forward to a fresh start this year," senior Ryan Desmond said. "We have a new coach coming in, and I am really excited to learn from him. We are definitely going to be a young team this year, so I am excited to see what the season brings."
Sailing:
The sailing team started the season by having an informational meeting on Wednesday, March 8. The team is led by senior Carson Whitehouse and head coach Bob Dugan. The team is varsity only. All are encouraged to join, and no prior experience is required.
Boys Volleyball:
While the girls volleyball team competes in the fall, the boys team competes in the spring, making it the only indoor spring sport. The team is led by head coach Philip George and captains Grayson Getz and Joe Kelly.
"To prepare for the season I have been playing club volleyball since October," Getz said. "We have been having captains' practices recently to get new guys interested and ready to go."
Crew:
The Wayland-Weston crew team has both a fall and spring season. During the winter season, there is winter training offered to prepare for the spring. There is also an optional summer program that many athletes choose to compete in to prepare for the fall season.
"I love crew because it's such a welcoming group that I get to hang out with everyday," sophomore Maya Noyes said.