Patrick Tutwiler: Striving to achieve education equity
On Dec. 16, 2022, Governor Maura Healey appointed former Wayland High School Principal Patrick Tutwiler as Massachusetts' next secretary of education. The former Lynn superintendent and Boston educator will focus on resolving challenges like pandemic learning loss and improving mental health among students.
Tutwiler has been an educator for 23 years, but his career path was not always focused around education. He planned on following a career path in business, but in early years of his career, following his graduation from Holy Cross College, he realized that education was his true calling.
"I stumbled upon a book by a researcher named Jean Anyon called Ghetto Schooling, and it was all about the experience of elementary students in the Newark, New Jersey public schools," Tutwiler said. "I felt like that book was my call to action. I felt an immediate tug in my heart to do something about [the education system], and the best way I thought to do that was to become a teacher and apply to graduate school."
Tutwiler is aware of the learning obstacles that the COVID-19 pandemic created for the Massachusetts educational system. Many schools in Massachusetts do not have the resources that students need to thrive post-pandemic, and Tutwiler strives to explore different ways of helping students, families and educators.
"I'm really careful about not creating a box around what my path [forward as secretary of education] looks like, because I think it's really important to create a path forward that has a lot of input," Tutwiler said. "That [path] embraces what stakeholders, students, families and communities think is important going forward."
As the secretary of education under Governor Healey, Tutwiler receives input from others about potential improvements in the education system. However, as a former educator, Tutwiler's main goal is to ensure that students have opportunities to explore their passions without limitations.
"I became an educator because I want to help people realize their dreams, and that's what I hope to achieve in this role through policy, budget and other things that I have an impact on," Tutwiler said. "I really want to be a partner to the people who are experiencing education at all levels."
After the COVID-19 pandemic, educators are attempting to resolve issues by recognizing the learning gap between students before and after the pandemic. These are highlighted issues that Tutwiler hopes to address during his term as secretary of education.
"Right now is a very interesting time in education and in many communities across all levels, since we're still experiencing the impact of the pandemic," Tutwiler said. "There are many things that the pandemic exacerbated or illuminated, depending on your perspective, and I think these things still need attention."
"
I really think it's an invaluable part of my [career as an educator] that I've had the opportunity to see, experience and work in different communities and understand the differences and challenges, as well as how to best address those challenges.
— Patrick Tutwiler
One of the obstacles facing educators post-pandemic is mental health. The pandemic not only changed the way students learned, from in-person learning to remote learning, but it also reduced the amount of time students were able to spend with their peers. Following students return to in-person learning, COVID-19 has caused an increase in the demand for mental health services. 
"Mental health is not a new phenomenon in the education space, but certainly became one that people pay closer attention to as a result of the pandemic," Tutwiler said.
Tutwiler believes that the main way his administration is able to help students and families after the pandemic is to provide them with as many opportunities as possible, beginning with the education system attempting to improve the environment in which students learn.
"I think right now, we're attempting to support stability across the education space, but at the same time, we have learned a lot about ourselves and how we can be better," Tutwiler said. "I'm hopeful that this can be a transformational time."
During Tutwiler's first year as superintendent of Lynn Public Schools, he attended a community of practice with education leaders from St. Louis, Dallas, Atlanta and Chicago, where they worked together to develop plans about achieving equity in their school districts. Tutwiler was inspired by the work he did at this practice, and after he left his superintendency at Lynn Public Schools, he transitioned to working at the Barr Foundation  for 90 days before he was appointed secretary of education.
"[Talking with other educators about equity] was transformational for me individually, but also laid the groundwork for the equity agenda that we launched at Lynn, [which the Barr Foundation] funded as well," Tutwiler said. "I became familiar with the power of philanthropy and school districts, and decided that the Barr Foundation was an important place where I could continue to do the work that I was passionate about."
Tutwiler began his educational career in Boston Public Schools, and then moved to Westford Public Schools. From there, he was a principal at Wayland High School for six years before securing his role as superintendent of Lynn Public Schools. Throughout his career, Tutwiler has learned about the different ways he can improve each school district he has worked in.
"I really think it's an invaluable part of my [career as an educator] that I've had the opportunity to see, experience and work in different communities and understand the differences and challenges, as well as how to best address those challenges," Tutwiler said.
During his six years at Wayland High School, Tutwiler oversaw the new high school being built and the establishment of the fine arts graduation requirement. Tutwiler recalls that Wayland High School was a special place to teach, as he was able to watch students flourish.
"I feel some pride around creating the conditions for everyone's brilliance to rise to the top, and sometimes that meant offering support, and sometimes that meant getting out of the way," Tutwiler said.
During a time of reconstruction within the education system post-pandemic, Tutwiler recognizes the importance of a strong leader, and he hopes to embody this type of leader as the secretary of education of Massachusetts.
"That's what leadership really is, not necessarily being the first person to speak up, not necessarily being the person who has the ideas, but more creating the conditions where everyone can do their best work," Tutwiler said.
View Comments(1)
Donate to Wayland Student Press
Your donation will support the student journalists of Wayland High School. Your contribution will allow us to purchase equipment, cover our annual website hosting costs and sponsor admission and traveling costs for the annual JEA journalism convention.
About the Contributor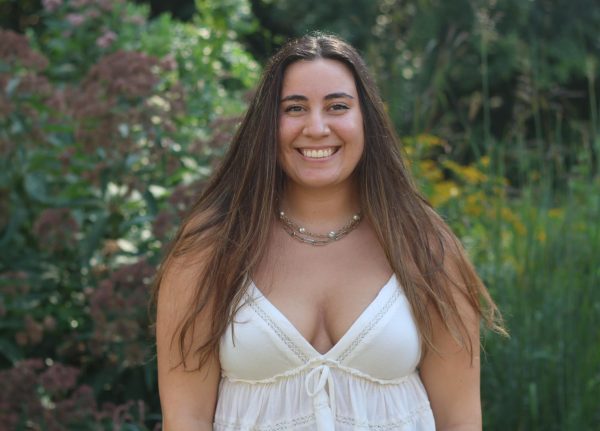 Katya Luzarraga, Staff Managing Editor
Katya Luzarraga, Class of 2024, is a third year reporter and staff managing editor for WSPN. She plays for the girls varsity tennis team and is a member...