MOTS: Meet the New WHS Staff
Latoya Downes-Steinbrink (Clinical Counselor):
What made you decide you want to be a counselor?
"My senior year of high school I took a psychology class as an elective and I really enjoyed it. And then when I went off to college, I was like 'I'm going to be a doctor' and [then] I realized I'm not that into science. I kind of found my way back to psychology and got my bachelor's in psychology. Then I was trying to figure out what my next step was after that. I landed at a summer program for kids that have a lot of emotional needs, and from there I realized social work was what I wanted to do next, so I got my master's in social work. And I've just been working in schools for so long, I knew I wanted to be in schools. I've been just kind of around kids from elementary, middle school, and high school for all these years and I love it. I feel like giving somebody a space where they can just be completely themselves and there's no judgement and they can kind of figure out whatever they need to figure out. I'm honored when people share that with me. It's my calling."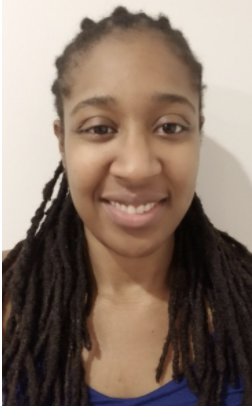 What brought you to WHS?
"When the job came up, I knew I was happy where I was, but I wasn't doing the counseling piece. And I think the last couple of years, with the pandemic, and everything that's going on, everything that people have been going through, [I was] just kind of being led back towards that counseling role."
What are some hobbies you like outside of work?
"Anything where I can be creative. So, I like taking pictures. [I'm] not a great drawer, but I like to draw and paint. I have a big family, so I like to spend a lot of time with my family. I have lots of nieces and nephews, so they take up a lot of time."
Courland Ferreria-Douglas (Chemistry Teacher):
What made you decide you want to be a Chemistry teacher?
"The first thing is [that] I was an A student prior to going to college. When I went to college, I took a couple of chemistry classes. I was a pretty good chemistry student in high school, but when I went to college it was the first time where I felt like I really struggled in something. It was really difficult. I tell my students in my class that I got all D's in my chemistry class. Every time there was a chemistry class, I was always getting a D and that really was hard for me because I really enjoyed chemistry. It was the first class that I think I ever took that really helped me understand the world and not just the real world, even my imagination."
What brought you to the Wayland School System?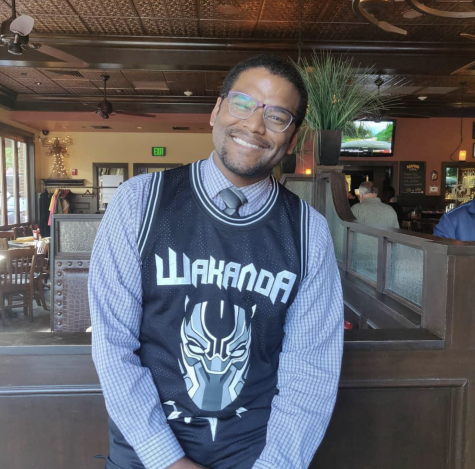 "I really appreciated the way that Wayland goes about its education. I think, I hope anyway, that the students that are here really understand how special the type of structure, the way that they design it and how the classes are structured and how free the students are at this school. It's an interesting thing. I have been here for two, three weeks, and I have talked to my family about how different this school district is as far as the effect that it has on students and the way that they experience the school. Not just the students, but also the facility as well. How it's an interesting difference and I thought that would be a nice thing to explore. In a school district that doesn't have as much of a diverse group, I thought that I could add that level of other aspects of things, so I think that is an important thing."
When you are not teaching, what are some hobbies you like to do outside of school?
"My favorite thing is probably photography, I love photography. If there is any blessing I had growing up, it was when someone gave me a camera. They gave it to me when I was twelve years old and it is something that I always have on me. I think that it is the first time that someone told me, 'you can change the way that you see the world' and with a camera, you can literally actually do it. I love to play tennis, every now and then you will see me play tennis out there. The only bad thing about tennis is that you need two people to play it. I love to journal, that is a really big thing for me. Journaling, there is a blog that I have that I like to keep up to date. My family is all in Seattle, so it's a nice way to keep in contact with them."
Emily Grant (Math Teacher):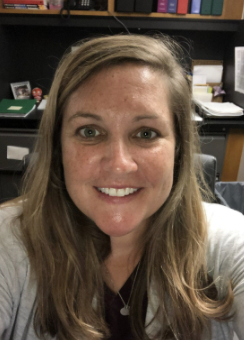 What made you decide you want to be a math teacher?
"A lot of my family are teachers. I grew up wanting to become an elementary school teacher. I have a younger sister, so I used to play school with her and teach her. When I got into high school, I started really enjoying math, specifically BC Calculus. That's when I decided I wanted to be a math teacher."
What brought you to WHS?
"Part of its reputation, it's obviously a great school. What I've found in the first couple weeks is that kids are very interested, curious and motivated, and it's alway's fun to teach kids like that. It's also close. I live in Natick so it's nice to not have a long commute."
When you are not teaching, what are some hobbies you like to do outside of school?
"I have 3 boys, an 11-year-old, an 8-year-old and a 6-year-old. So, most of it is things with them. But, we like to do outside things: hiking, biking and camping. I also have a 2-year-old labradoodle, so I like walking him, taking him to run in the park. I love to read."
Hayes Hart-Thompson (Innovation Teacher):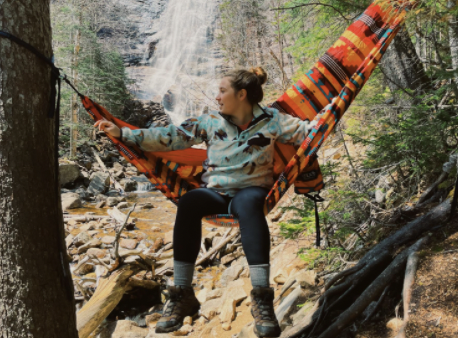 What made you decide you want to be an innovation teacher?
"While at Boston University, I spent a lot of time working in the innovation space and working on my own non-profit. Through this process, I became really excited to mentor and work with younger students, as well as larger administrators and professors to develop large scale education plans. Over time, I realized I wanted to get in the classroom more and work with students, rather than planning from afar. This opportunity at WHS allows me to work more directly with students and explore their ideas alongside them."
What brought you to WHS?
"One of my mentors said that the Wayland community and the uniqueness of an innovation class would be a perfect place for me to start teaching in the public school system."
When you are not teaching, what are some hobbies you like to do outside of school?
"I coach Women's Rugby at Tufts University. I played in college, so this is a great way for me to continue supporting the sport. I am also attempting to learn Arabic and would welcome any help."
Jennifer McGillis (Library Media Center Teacher):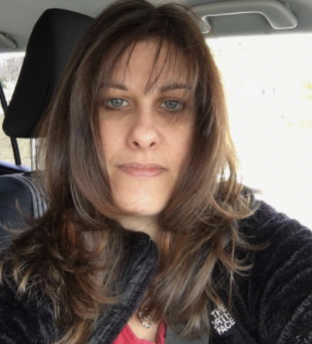 What made you decide you want to be a Library Media Center Teacher?
"Well, this is my 23rd year working in libraries so I actually kind of stumbled into it. I was working at a full time job in real estate, and I was looking for a part time job to supplement my income. I started working at the Natick Public Library and just fell in love with it. After I had my kids, I gave up my other full-time job and just worked there part time for years. I eventually went full time, and then I went back to school to get my library degree and switched over to the school side."
What brought you to WHS?
"There were a bunch of schools that I was looking at that were hiring. Dr. Mizoguchi is so wonderful, just so lovely, and I liked the atmosphere of the school. I liked all of the staff I had interviewed with and work with, Ms. Wright is really great. This seemed like a school I would be very comfortable at and very happy at."
When you are not teaching, what are some hobbies you like to do outside of school?
"I like to read a lot. I love to listen to music and go to the beach. I just love spending time with my family and friends."
Loan Rothschild (French Teacher):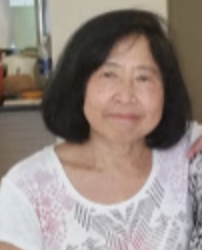 What made you decide you want to be a French teacher?
"I like young people. I find it very invigorating to deal with young people. I like when young people can exchange ideas. I find it very invigorating to teach because once the idea can be taught, I can see the enthusiasm that it can bring to young people, and I love that kind of excitement when I can see someone learn something."
What brought you to Wayland?
"I've been working in other different school systems, mostly in suburban areas."
When you are not teaching, what are some hobbies you like to do outside of school?
"My hobby previously, like two years ago, was jogging. I jogged almost every day, but now I have developed problems with my knees, so I just swim. Now my hobby is swimming, and of course I love music. I listen to a lot of music, especially Latino music. I speak Spanish too."
Laine Winokur (History Teacher):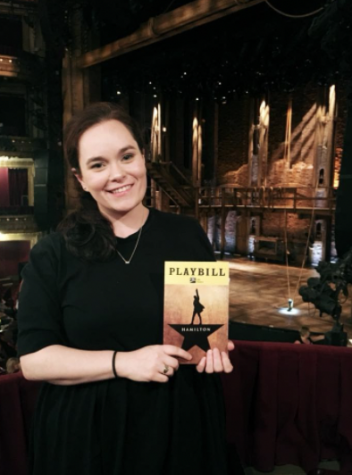 What made you decide to become a history teacher?
"I went to Wayland High School and I had Mr. Chase, Mr. Gavron, Mr. Delaney and Ms. Lehmann, and they were the best history teachers ever, and they made me love history. And so I decided to study history in college, and then I did a couple things where I worked with students and I loved it so much. And so, I've become a history teacher for 9 years."
What brought you to WHS?
"I went here and I really, really wanted to come back because I loved it here."
When you are not teaching, what are some hobbies you like to do outside of school?
"I love baking, watching shows on Netflix and I take tap dancing classes."
Tim Bryant (School Nurse):
What made you decide to be a nurse?
"As a child, at 10-years-old, I was involved with a medical condition that put me in the hospital for a good month. And at that time, I was able to see the doctors and nurses coming and going, and became very interested in what they did and how they took care of me. I was very impressed. At that time, I knew I was going to go into some sort of medical field, but I was not sure [which one]. When I graduated high school, I was going to become a physical therapist and did not like it when I got into school — I was not impressed with [physical therapy], and switched to nursing. I never wanted to be a doctor, didn't want to put in 12 years of schooling, so I tried nursing and I loved it. And nursing is a wide open field. You are not locked into going to the hospitals, you can go so many different avenues. Even inside the hospital, you can go to administration, emergency room, you can go to the operating room and you can go to floor nursing. There's so many different fields pertaining to nursing that are basically wide open to do whatever you want to do."
What brought you to the Wayland School System?
"My kids both went here. I've lived here since 1995 and I took an interest in school nursing because I worked at a children's hospital for two years and really liked working with the kids. I found that working with the high school kids was one of my favorite things to do during the day. I was in the operating room again, but still, working with the high school kids was just very rewarding. So I thought maybe I could be a high school teacher, and I started following that path. And then the job became available and I applied."
When you are not teaching, what are some hobbies you like to do outside of school?
"I love to bike ride. There is nothing better than riding on my bike in the wide open air, and going places that cars can't get to, so I really like to do that."
Leave a Comment
Donate to Wayland Student Press
Your donation will support the student journalists of Wayland High School. Your contribution will allow us to purchase equipment, cover our annual website hosting costs and sponsor admission and traveling costs for the annual JEA journalism convention.