Protest at WMS: Wayland community members react to multiple racist incidents
Over the past week, Wayland Middle School families were made aware of two separate racist incidents that had taken place within the school community. As a response to both incidents, a protest took place on Friday, Dec. 10 at the entrance of the middle school.
WMS families were first sent an email regarding what was deemed a "highly concerning social media post" on Saturday, Dec. 4. The nature of the post was received as racially charged and threatening to multiple students. After receiving information about the Snapchat story post by a student on Friday, Dec. 3, WMS Principal Betsy Gavron notified local police officers and later notified WMS families. The email urged families to talk to their children if they felt affected by this video or needed support.
In homeroom Monday, Dec. 6, teachers read their class a uniform message stating that the incident did not reflect the values of the WMS community. The memo went on to say that after investigation, the police officers deemed the incident as not posing a physical threat to any students or the community. The message ended with some requests for the students.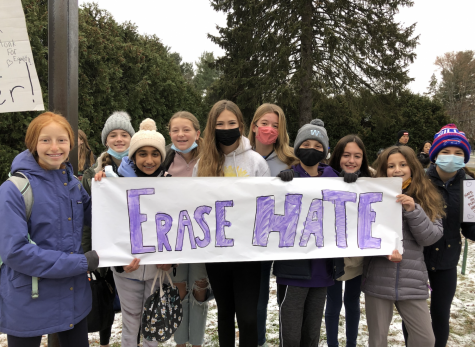 "One step to move us forward is to ensure copies of the video are not circulated further, causing more upset," Gavron said. "We ask that you delete any copies. Additionally, we want you to minimize conversations about this event outside of our processing sessions out of respect for people who have been impacted by it. Finally, and as always, we ask you to think before you post."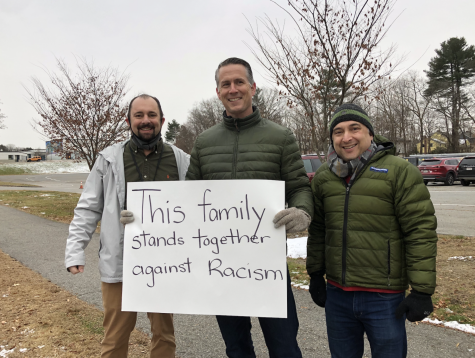 Gavron and administration also decided to hold further processing sessions for students divided by grade. Students of color had the opportunity to join affinity groups first block Monday, Dec. 6, and all other students could talk to grade level counselors after lunch. Here, the students discussed the emotions provoked by this event in a more personal arena. WMS also offered a time for caregivers to separately discuss the issue with the school on Wednesday, Dec. 8.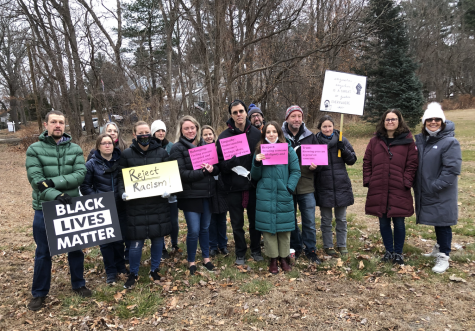 Less than a week after the original incident took place, Gavron once again notified families of racist graffiti found at the middle school on Thursday, Dec. 8.
"Today, students found racially charged graffiti written on an eighth grade bathroom wall," Gavron said. "Graffiti of any kind is taken seriously — especially when it makes reference to a person or group of people."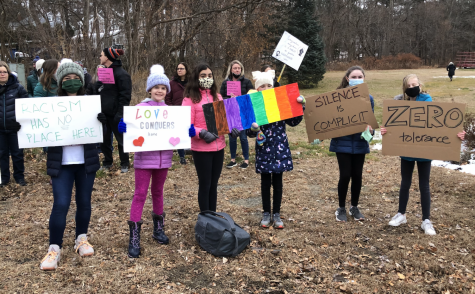 In her email, Gavron explained to families that sixth and seventh grade students were read a message in class alerting them of the situation. All eighth grade students were brought to the auditorium in two different sessions where Superintendent Omar Easy spoke to them. After the meeting took place, eighth grade students of color were given the opportunity to talk in affinity groups.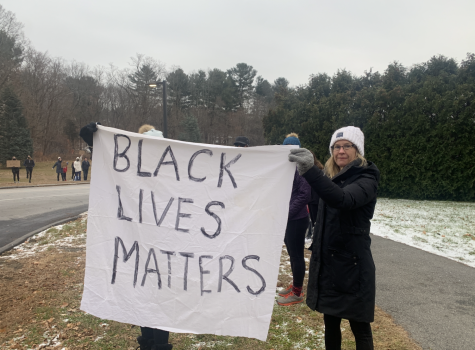 Throughout the day, many students who had gone to the bathroom during a specific time period were called to the office for questioning. Although the person who wrote this message has not been identified yet, students are being urged to talk to an adult if they know anything.
"We have begun our investigation and will deal with the situation comprehensively," Gavron said. "Identifying the individual who wrote this is an important step in the process of healing. If you want WMS to be a school where all students feel safe and welcomed, we need to work together. If you saw or heard anything that could be helpful to this investigation, please let a trusted adult know."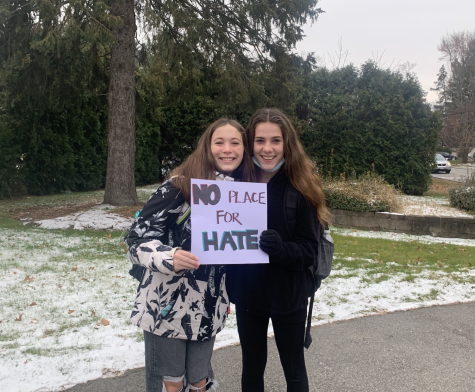 After the original email from Gavron, WMS families received an email from Easy addressing both of the incidents.
"Over the past week, two racially charged incidents have occurred in our school community," Easy said. "Both of these incidents have been investigated by the building administration and appropriate discipline and or legal action will be taken in accordance with the WPS Student Handbook. I want to affirm my commitment to you that any and all acts or forms of racism or bigotry will not be tolerated and have no place in our school system."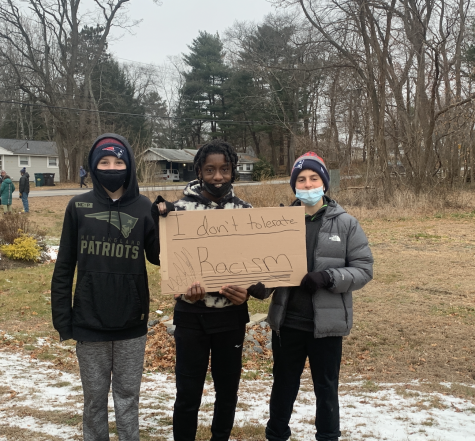 Following the numerous emails sent to families this week about both incidents that happened, many felt the need to take action. WMS parent Meg Flatley reached out to many community members to organize a protest in front of the middle school on Friday, Dec. 10, from 7:55 a.m – 8:20 a.m.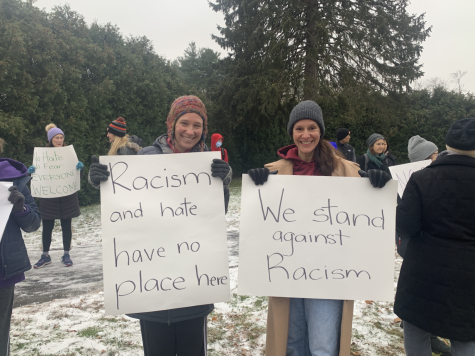 "We had to do something," Flatley said. "Silence is complacent, and having long term responses both proactive and reactive is important. [The protest] was just an idea that I had, so I immediately texted a lot of friends who were on board. In Wayland, word travels fast, so we started texting, emailing and using social media to get the word out. For most of us, the super important thing is that students and families of color in our community know that we don't condone the actions of a few."
Wayland community members of all ages attended the protest, held signs and actively stood against the incidents that took place at the middle school. Many WMS teachers also attended the protests to show their support for their students of color.
"I'm here because I'm very upset these racist incidents are happening at the middle school," WMS French teacher Jada Williams said. "I teach lots of students of color, and I want them to feel safe. I want them to come to school and know their teachers care about them as much as every student."