Breaking News: WHS COVID-19 restrictions lighten as February break approaches
After the recent decrease in COVID-19 cases, Wayland High School administration decided to return the tables to the commons. Students will be able to sit at the tables beginning Thursday, Feb. 10.
"The decision was made by looking at a lot of different metrics and deciding that, at this point, it is safe to have students eating in those configurations again with what we are seeing in terms of our testing, positivity rates, COVID-19 spread and things like that," WHS Assistant Principal Sean Gass said. "[The decision] was made as part of the phase plan to eventually return to 'normal.'"
The returned tables are the first phase in the wider plan of returning back to how conditions were before the pandemic. The next phase includes reconfiguring the desks in classrooms, which are currently in rows to maintain social distancing. The final phase is giving students the option to remove masks. This plan is susceptible to change given the results of COVID-19 cases after February break.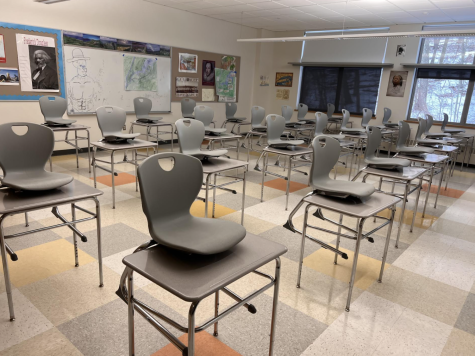 "Rather than just saying [all COVID-19 precautions] are going to disappear all at once, the district has very smartly decided that we are going to remove [COVID-19 precautions] one at a time so that we can measure whether or not it has an impact on COVID-19 cases," Gass said.