Breaking News: WMS Principal Betsy Gavron announces year sabbatical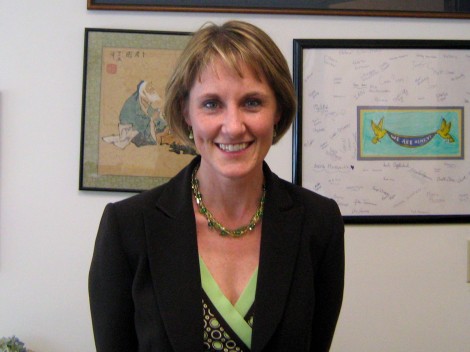 On Tuesday, Feb. 8, Wayland Middle School Principal Betsy Gavron sent an email to WMS families, announcing her plan to take a year sabbatical during the 2023-2024 school year.
Gavron began the email by sharing the demands and "shoulds" she faces as principal. These include cheering on WMS students at their sports games or concerts, meeting with students and staff, completing evaluations, attending task force meetings and much more.
"Usually, I am pretty good at compartmentalizing and dividing my time and attention in ways that make sense," Gavron wrote. "Sure, sometimes work gets more of me and other times my family wins out, but usually I am able to maintain a doable balance."
Recently, Gavron has had to deal with the declining health of her mother-in-law, "Grammy," on top of her usual duties as WMS principal and a mother. With all of the stress and uncertainty she is currently facing, she has found that meeting the demands of being WMS principal has gotten much more difficult and emotionally taxing.
"As I work to try to support Grammy, traveling to and from the rehabilitation center as often as possible, I realize none of the other "shoulds" have abated, and in fact feel like they have amplified," Gavron wrote. "I am not someone who knows how to do my job half way, so my sleep has been the first thing to suffer. It has led me to pause and take a step back."
Gavron came to the conclusion that the needs of her family and her own wellbeing must be her top priority, which led her to request the sabbatical from Superintendent Omar Easy. After her sabbatical is over, Gavron will make a decision on whether or not she will return as WMS principal.
"I am confident that the middle school is in a good place and will remain a positive learning and working environment for all of our students and staff moving forward," Gavron wrote. "I hope you will understand my decision for what I feel I should do next year."