Wayland's first Multicultural Festival
On Saturday, May 21, Wayland's first Multicultural Festival took place in Wayland High School's field house from 1 p.m. to 5 p.m. Sponsored by Wayland's Human Rights, Diversity, Equity & Inclusion Committee, and various other co-sponsors, the festival was created in an effort to celebrate different cultures in Wayland.
Planning for the multicultural event started several months ago, in late December and early January. WHS sophomores Eunjee Kang and Jordynn Lee, who planned the Lunar New Year Festival in January, were recruited to the planning committee for the Multicultural Festival.
"The planning team from the multicultural festival was really inspired by the Lunar New Year event and wanted to make an event that would embody everyone's culture," Kang said. "After that, they decided to reach out to both Jordynn and I to help plan for this festival since we were more experienced."
To begin the event organizing, the planning committee started by securing a venue for the festival. They reached out to numerous cultural groups to invite them to perform at the event, invited locals to showcase their culture at mini stations and called in food trucks that featured specific foods.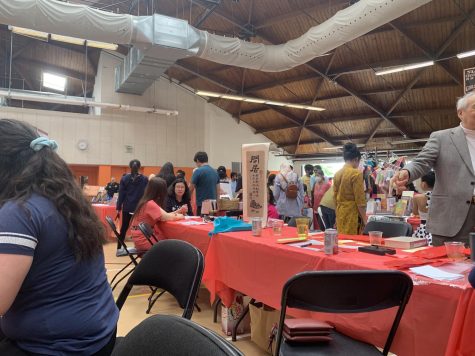 "We've been contacting performers who would be willing to perform for the event, and help partake in setups and booths and tables," Lee said. "We were trying to figure out a spot, a time and a day for the event to take place. We also were trying to figure out what kind of food we would have, and if we could get a food license to serve food there."
Clara Chen Fuchs, a Wayland parent and volunteer at the festival, helped organize and run the face painting stall. Fuchs believes that holding the festival helped Wayland residents spread their culture and celebrate diversity.
"I think it was important to hold this festival to recognize and celebrate the diversity present in our community," Fuchs said. "It's a great opportunity for the different generations to share traditions, food and culture with each other."
Kang believes that the Multicultural Festival was an event that showcased the diversity in Wayland, while also bringing other cultures together.
"It really shows that different cultures can come together and become one, and also shows a place for people to belong," Kang said. "That's really important."
Lee believes that the event can expose younger children in Wayland to other cultures.
"Wayland is a very diverse town," Lee said. "We want everyone to be proud of their cultures, their uniqueness and diversity. We want everyone to respect each other's cultures and celebrate it, which is what we hope this festival [has done] for others. Especially with bringing awareness to younger kids, and those who don't really learn about it as much."
After the success of this year's Multicultural Festival, organizers are already planning the event for next year.
"We're going to have another Multicultural Festival next year," Lee said. "So, hopefully, we make [the Multicultural Festival] an annual thing."