Athlete of the Month: Liam Gill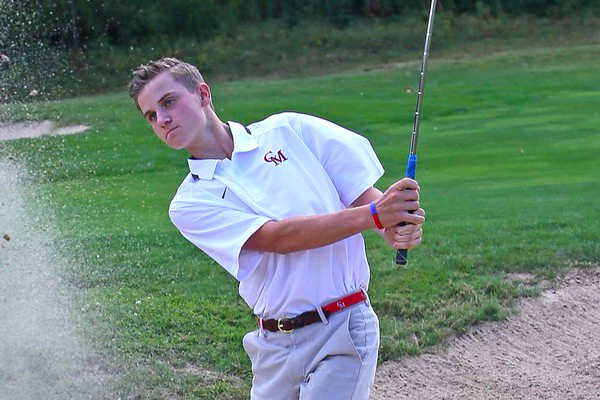 Sophomore Liam Gill has always had a stick in his hand. Growing up, he specialized in hockey and lacrosse. However, in the summer going into eighth grade, he found love in a new sport: golf. He started to play 36 holes a day at Sandy Burr Country Club and did everything he could to improve his golf game. He even put a putting green in his basement and set up a place to chip in his backyard.
"I love the aspect of the game where you are never going to have the same shot twice in a row or really ever again," Gill said.
As a freshman, Gill contributed to the boys' varsity hockey team and put up three points throughout the year. However, it was in the fall where he really showcased his athletic talent. He was the number one golfer on the WHS varsity team as a freshman and was named Dual County League MVP. Gill believes that being connected to the team helped his performance.
"Meeting the upperclassmen on the golf team [during] freshman year helped me a lot during school because they made me feel more comfortable," Gill said.
Following his freshman year at Wayland, Gill decided to take his talents to private school. Gill repeated his freshman year at Catholic Memorial in West Roxbury. Once again, Gill was a standout freshman, winning both the Catholic League MVP and the individual tournament. Gill credits his growth to his golf partner at Catholic Memorial, former senior Andrew O'Leary.
"[O'Leary] and I teed it up together last fall on the team," Gill said. "We were the number one lineup in the state by a lot, but unfortunately, no one after us on the team could convert. I hope to stay tight with him throughout my life because I always have to remember where I came from."
Andrew O'Leary is now a freshman at the University of Notre Dame, where he is a key member for its golf team. O'Leary has translated his successes on the East Coast to his new home in South Bend, Indiana.
"He is now a freshman at Notre Dame and is currently the second best player on the team," Gill said.
As much as Gill loved Catholic Memorial, Wayland has always been his home and is where he wants to finish his remaining years of high school. The commute to his old school wasn't easy and took away crucial time from the golf course.  
"Transportation was a big reason why I came back to Wayland," Gill said. "[Longer commutes] meant less money and time for golf."
This summer at a New England Junior PGA (NEJPGA) tour event, Gill shot a four-under 66, finishing seven strokes ahead of the runner-up. He's won the last four NEJPGA tour events he's competed in.
"This game is like no other," Gill said. "There are going to be good breaks at some point and at other times there are going to be bad breaks."
This summer, Gill is scheduled to play across the globe, competing in tournaments in Florida, California, Ohio and Ireland. The long list of upcoming tournaments for Gill includes the U.S. Junior Amateur Championship, the Junior PGA Championship, the Junior Players Championship and the Junior World Championship.
"My favorite part about golf is the preparation," Gill said. "Preparing for a tournament and then stepping on the first tee knowing that there is no shot I cannot pull off."
Gill is inspired by his two favorite golfers, Tiger Woods and Rory McIlroy. The two professionals have dominated the sport and have given Gill people to look up to.
"Fitness is a big part in [the] modernized game of golf today," Gill said. "Tiger [Woods] played a big role in changing the game in a positive manner."
Gill doesn't plan on ending his career after high school and wants to continue playing throughout college and possibly on the PGA Tour.
"I plan to go somewhere down south or out west for two full years and then make my debut on the PGA tour," Gill said.
Gill hopes he can continue his success in Wayland for the years to come.
"I did very well in school last year, and I hope to keep that momentum going into this year and years to come while enjoying my time here at Wayland High School," Gill said.