Fashionistas of the Month: Katie Schouten and Jack McCahan
Fashionistas of the Month: February Edition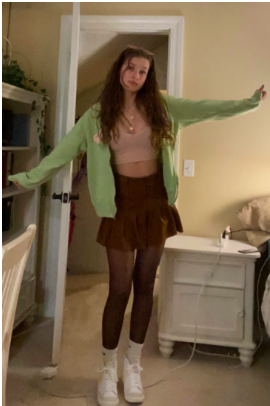 Name: Katie Schouten
Grade: Sophomore
Favorite store: "My favorite place to shop at is probably any thrift store, but I usually go to Savers because it's closest to me. I like thrifting because it's sustainable, but you also can find some really unique stuff there for insanely cheap."
Online shopping or in-store: "I like in-store shopping. There's something nice about being able to touch and try on what you're getting, but since COVID-19, I've usually gone online."
Fashion icon: "Honestly, my fashion icons are the random girls I see on my Pinterest board."
Outfit: "I'm wearing pink glasses, penny necklaces, a green zip up, pink tank top, brown corduroy skirt, sheer tights and yellow Nike Blazers."
Favorite season: "My favorite season to dress for is probably fall or summer. I feel like that's when I can dress for fashion and not weather."
Design time: "I usually think about what clothes I could wear the night before, when I'm falling asleep, then try a few things on right before I leave for school."
Favorite article of clothing: "My brown quarter zip because it's very soft and also a nice color."
Style word: "One word I would use to describe my style is 'evolved,' because I had no clue how to dress cute in middle school."
Advice for the fashion-challenged: "A word of advice for the fashion-challenged is to figure out what you like. Make a Pinterest board or scroll through Instagram. Then whenever you need ideas, just come back to that."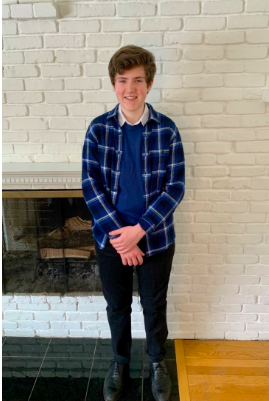 Name: Jack McCahan
Grade: Senior
Favorite store: "I honestly have no idea what my favorite clothing store is. Maybe Uniqlo?"
Online shopping or in-store: "Definitely online. I really don't like trying on clothes anyways, I find it kinda annoying, so there's really no point for me to shop in store. I love the variety that you can find online and just how fast you can browse so many different options and styles."
Fashion icon: "Lady Gaga, my queen. My clothes are definitely not directly inspired by hers, but she's still definitely my fashion icon!"
Outfit: "This outfit was really chosen by my friend when we went Black Friday shopping a little over a year ago, but then [another friend] helped design it too. The sweater and flannel are from Uniqlo and the Jeans are Levis. The shoes I stole from my brother (hopefully he doesn't see this!)."
Favorite season: "Probably fall. To be honest, I don't really change what I wear very much—I really just wear sweatpants and a sweatshirt most days, but in fall there's definitely more room for cozy warm clothes, while at the same time it's not uncomfortably cold."
Design time: "I usually just grab something in the morning from my closet (really I wear sweatpants every day), but if I'm going somewhere, then maybe the night before I'll plan something out."
Favorite article of clothing: "Hoodies. They are so comfortable and fun."
Style word: "Comfort-couture."
Advice for the fashion-challenged: "I am the fashion-challenged, so if anybody has advice for me, let me know!"
Leave a Comment
About the Contributors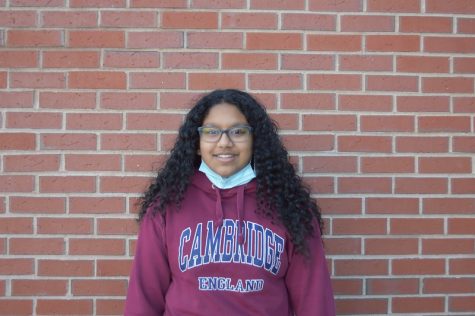 Nandhana Nair, Staff Reporter

Nandhana Nair, Class of 2023, is a first year reporter for WSPN. She's a part of the high school's Wayland-Weston crew team. Outside of school, she...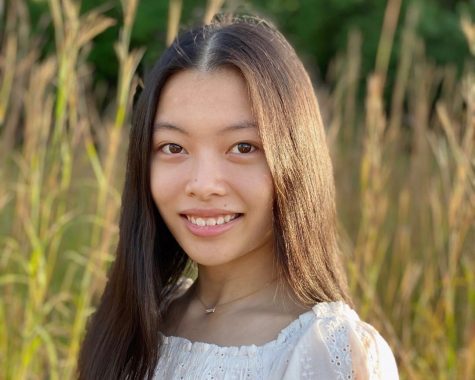 Elizabeth Zhong, Graphic Designer
Elizabeth Zhong, Class of 2021, is this year's graphic designer for WSPN. She is the president of Student Council, co-President of the Tri-M Music Honor...