Warrior Weekly: NBA All-Star Weekend recap
This year's All-Star Weekend was held in Atlanta, GA and was obviously very different. With COVID-19 roaming the globe, fans weren't allowed into the arena. This was very unfortunate because the All-Star Weekend doesn't just feature the league's top players, but also many celebrities as well.
There are four events included in the All-Star Weekend: The Skills Challenge, 3-point Contest, Dunk Contest, and the main event, The All-Star game. Usually, these events are held on separate days and are spread out. But this year, it was more like an All-Star day rather than a weekend. The festivities were all held on March 7.
The weekend started with the Skills Challenge, which featured Luka Doncic, Chris Paul, Robert Covington, Domantas Sabonis, Nikola Vucevic and Julius Randle. These six stars competed in a race against one another in a tournament style bracket to see who would come out on top. The two players who are going head-to-head dribble around obstacles down the court, pass the ball into a circle, dribble to the other end of the court to make a layup, and then get their own rebound and dribble down the court again to shoot a 3-pointer. Again, this is a race so the players have to be quick if they hope to win it all.
Indiana Pacers forward Sabonis ended up beating Orlando Magic center Vucevic, getting his revenge after losing last year to Miami Heat forward Bam Adebayo. Sabonis brought the trophy home which made Pacers fans All-Star Weekend a good one.
Next was the 3-Point Contest that featured Zach Lavine, Jaylen Brown, Jayson Tatum, Devin Booker, Donovan Mitchell and of course, Steph Curry. Unfortunately, Suns star guard Devin Booker was battling a knee issue and was ruled out for both the 3-Point Contest and the All-Star game. He was replaced by Utah Jazz guard Mike Conley in both events. The contest consists of every player shooting 25 balls from different spots beyond the three point arch. There are also colorful balls on every spot and those are worth two points while regular NBA balls are worth one point. Out of the six contestants, only three would advance to the final round.
The three that advanced were Jayson Tatum of the Boston Celtics, Mike Conley of the Utah Jazz and Steph Curry of the Golden State Warriors. After Jayson Tatum put up a very poor score in the final, it was between Curry and Conley for the right of 2021 3-Point Contest Champion. Mike Conley put up a very good score of 27, which had many NBA fans puzzled. Conley wasn't even expected to make it this far in the challenge and now, he's giving the best shooter in the NBA problems. Curry put up a great score of 28 and was crowned the winner. This event was definitely the highlight because Curry had to make four out of his last five shots to beat Conley. This competition came down to the final shot and was overall a very entertaining contest.
Next, the All-Star game took place. Los Angeles Lakers forward Lebron James and Brooklyn Nets forward Kevin Durant got to draft their teams a couple days prior to the event. These teams then went head to head in Atlanta for the 2021 All-Star game. Team Lebron ended up taking the win by a score of 170-150, with Milwaukee Bucks forward Giannis Antetokounmpo winning the All-Star game MVP. Antetokounmpo put up 35 points on 16/16 shooting which is an All-Star game record, making him the clear MVP winner.
During the halftime of the All-Star game, the Dunk Contest was held. This competition is the most flashy of them all. The league's best dunkers go head-to-head to see who had the best dunk. Five judges judge all the dunks out of 10 points which adds up to a total score of the dunk out of 50 points. The players in this competition include Obi Toppin, Anfernee Simons and Cassius Stanley. The event ended up coming down to New York Knicks forward Obi Toppin and Portland Trail Blazers guard Anfernee Simons. Obi Toppin jumped over his All-Star teammate Julius Randle and his father for his final dunk which earned him a score of 46. Anfernee Simons tried to kiss the basket during his dunk which tied the contest. The judges were forced to pick between the two and the result was 3-2 in Anfernee Simons's favor.
Overall, this year's All-Star Weekend was something special and one the entire NBA community will never forget.
Leave a Comment
Donate to Wayland Student Press
Your donation will support the student journalists of Wayland High School. Your contribution will allow us to purchase equipment, cover our annual website hosting costs and sponsor admission and traveling costs for the annual JEA journalism convention.
About the Contributor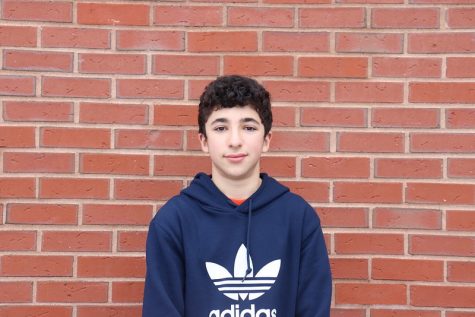 Gabe Likerman, Sports Broadcast Editor
Gabe Likerman, Class of 2023, is a second year reporter and sports broadcast editor of WSPN. He plays on the Wayland High School basketball team. He enjoys...