Warrior Weekly: Top QB prospects in 2021 NFL Draft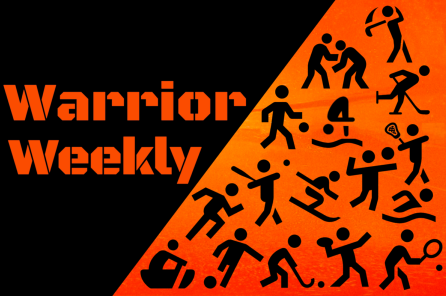 When people think of football, they think of the quarterback position. Quarterback is the most important position on the field and requires knowledge, strength and athleticism. The team's success often is a result of how good the quarterback is. The NFL Draft kicks off on April 29 and is an opportunity for quarterback-needy teams to upgrade at the position. This draft class is full of amazing quarterback prospects that have the talent to turn an organization around. Here are the top ten quarterbacks in the 2021 NFL Draft.
At number ten, Sam Ehlinger, who played for the University of Texas. He has decent general accuracy and average arm strength. His ball placement can be inconsistent but shows flashes of being very accurate. He does, however, have a bunch of mechanical issues which include holding the ball too low and his footwork in the pocket. He is great at scrambling and does a good job of rolling out of the pocket when it collapses. He likes to run almost immediately and misses open receivers because he has an instinct to run. He has value because of his athleticism. He could be very successful as a gadget player, kind of like Taysom Hill for the New Orleans Saints.
Kyle Trask takes the number nine spot on my list. Despite being a finalist for the Heisman, what I saw when evaluating him was disappointing. Trask would get bailed out by his receivers. He had one of the best players in the country in Kyle Pitts, who is also in this year's draft. Kadarius Toney was also a reliable weapon Trask had at his disposal. Trask has good size and works through progressions very well. He has decent touch and is good when throwing the ball in the intermediate parts of the field. His deep ball can falter at times due to his average arm strength. Trask is also very slow and immobile and tends to panic when under pressure in the pocket.
At eight, I have Jamie Newman out of Wake Forest. Newman goes through progressions very well and is good when throwing on the run. He is a strong runner, especially when his receivers aren't getting separation. His deep ball is good, and he has size for the quarterback position. His accuracy can be inconsistent, he can be late getting rid of the ball sometimes, but I think he can succeed at the next level in the right system.
At seven, I have Davis Mills out of Stanford. Mills can hit his receiver in stride very well. His touch is elite, especially on the outside towards the sideline. He manipulates zone coverage well, soteams don't run zone against him often. He finds the holes in the defense and makes the defense pay. He lacks speed but still does well to improvise when the play breaks down and can buy his receivers more time to get open. His deep ball is inconsistent, and he tends to panic against the blitz. His decision-making can be a question mark at times, but I think he has a better arm than the players under him.
The sixth spot on my list goes to Kellen Mond out of Texas A&M. Mond has a good arm and good accuracy both in the pocket and on the run. He is very poised in the pocket and is a threat to throw from anywhere. Mond is a solid runner and is athletic. He gets the ball out quickly and handles pressure very well. He can fit the ball into tight windows and works through progressions very well. He sometimes does force the ball and doesn't have the best footwork. If he gets drafted to a team with a good receiving core, he will do just fine in the NFL.
At number five, I have Mac Jones out of Alabama. Jones is a great leader both on and off the field. Jones has solid decision-making and patience when in the pocket. He doesn't force the ball to receivers, which leads to minimal turnovers. He is intelligent and can read the defense well. A knock on him is he played on the best team with the best weapons in the country. Najee Harris, Jaylen Waddle and Devonta Smith were a massive reason for Jones' success. He has gained interest from lots of NFL teams and will be a first-round pick.
The fourth spot goes to Trey Lance out of North Dakota State University. Lance opted out of the 2020 season due to Covid and has been preparing for the NFL draft for a while. He has great potential and can be a starter in the NFL if coached right. He probably won't be able to start right away and may need to sit behind someone for a year. He is very athletic and is a threat to run. His level of competition wasn't as high as Mac Jones and the other quarterbacks ahead of Lance on this list which is why he isn't higher. Lance is poised in the pocket and accurate on the run as well. He has good footwork and good pocket mobility, which is important in today's NFL. He's very decisive as a thrower and will need to be developed further in the NFL.
Number three is Zach Wilson out of BYU. Wilson is a good runner and has a great arm. His arm is phenomenal and might be the best in the entire draft. He has an amazing ability to improvise and keep the play alive. He has the ability to fit the ball into tight windows, though his receivers weren't much help at BYU. He has pretty good mechanics and has completed a lot of acrobatic throws. He has drawn comparisons to Patrick Mahomes, and although he may not be as successful as Mahomes in the NFL, their playstyles are fairly similar.
Second on my list is Justin Fields. Fields played at Ohio State University and is one of the best prospects in this draft. He's the best dual-threat quarterback in the draft, meaning he can both run and pass. He's very tough and has played through many injuries in the past. Fields is very athletic and has a very strong arm. He has great accuracy in the intermediate areas of the field and good accuracy on the run. He's very competitive which is a great trait in a quarterback. Fields tends to lock onto his first read which makes him easier to intercept, and he's not decisive enough in the pocket at times. These are both coachable weaknesses that he can improve in the NFL.
Finally, the number one quarterback in the 2021 NFL Draft is Trevor Lawrence out of Clemson. Lawrence has been the consensus QB1 for months. He's the best prospect since Andrew Luck in 2012 and he has a stacked college resume. He's played in two National Championships and won one of them. He will go down as one of the best Clemson quarterbacks of all time. He has good size for the position and has perfect mechanics. He has a great arm and can get the receiver the ball on time and target. Lawrence has good pocket mobility and a good ability to improvise. He's a good runner and was a threat that way as well. There were a couple of instances where Lawrence panicked under pressure but it doesn't happen often and he is the best quarterback in this draft.
Leave a Comment