Athlete of the Week: Samantha Abbott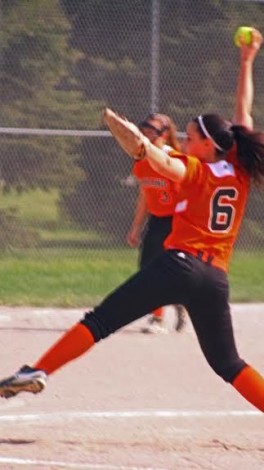 Name: Samantha Abbott
Grade: Senior
Sport: Softball
Achievements: Abbott has been playing softball since the fifth grade, starting on a town team. She currently plays on the girls' varsity softball team and an all year round travel team primarily as a pitcher. Abbott considers one of her proudest achievements to be having had a spot on the varsity team since her freshman year.
Sports idol: Jackie Robinson
Favorite memory: Abbott's favorite memory was the first away game of her freshman year. The coach had pulled her aside to inform her she would most likely be benched because she was a freshman and the varsity team already had a pitcher. She sat on the bench for the first three innings, but as the team fell behind 0-10, the coach put Abbott in at the start of the fourth inning, telling her to show him what she got. She struck out the first two batters and the inning ended with a slow ground ball to the first baseman. By the end of the game, Abbott had walked one girl and struck out six. Her coach told her he was proud of her and informed her that she would be starting the next game.
Quote: "A softball field is always a place I love to be. Softball means the world to me. Some may see it as just a sport, but to me it's much more than that. Every time I step on the field, I feel like I'm where I'm supposed to be. My worries melt away as soon as I pick up a ball and glove. The field doesn't judge you, and no matter how many times you mess up, it still welcomes you back with open arms. Life can be cruel, but in the end softball has always been there for me."