ICYMI: Week of October 26- First positive COVID-19 case, Trunk-or-Treat, the Bachelorette
In the weekly series, "In Case You Missed It," News Editor Taylor McGuire summarizes stories from the past week with links to the corresponding WSPN article.
News:
WSPN's Katherine Kim spoke with members of the Tri-M Music Honors Society to find out more information about the Trunk-or-Treat drive through the group hosted. Meanwhile, WSPN's Deirdre Brown interviewed various students, asking them their thoughts on hybrid learning thus far.
Editor Taylor McGuire reported the first positive case of Coronavirus at WHS, and WSPN's Josh Schreiber quickly informed readers that Cohort B would be fully remote this past Friday, Oct. 30 due to rising numbers of positive cases.
Sports:
Staff reporter Kate Clifford captured pictures at the boys soccer game where they lost to Concord-Carlisle, and staff reporter Kaitlyn Mabe shot a gallery at field hockey's Senior Night.
Staff reporter Max Brande summarized the most notable signings from the NHL free agency 2020.
Multimedia:
Editors Emily Staiti and Lauren Medeiros uploaded a gallery from the first day of hybrid learning for both Cohort A and Cohort B. The WSPN staff worked together to post a gallery of the seniors' Halloween costumes.
A&E:
Editor Alyssa Dickstein wrote another issue of her series, "The Good News," where she spreads positive news from the past week to brighten readers' days. WSPN's Caterina Tomassini and Dickstein also published the final six nights of their countdown to Halloween, where they posted a new spooky themed quiz everyday.
Guest writers Sophia Mastrangelo and Maria Perdomo summarized the second episode of the latest Bachelorette season in their new series, "The Bachelor Rewind."
Opinion:
Editor Atharva Weling encouraged readers to vote yes on Question 2 when they head wherever they go to vote, and WSPN's Julia Raymond explains her opinion that Halloween can still be celebrated this year in a safe manner.
Broadcast:
Editor Remmi Shaw, WSPN's Deirdre Brown and staff reporter Ellie Smith recorded the second episode of the "Weekly Breakdown," where they discuss the latest local news.
About the Writer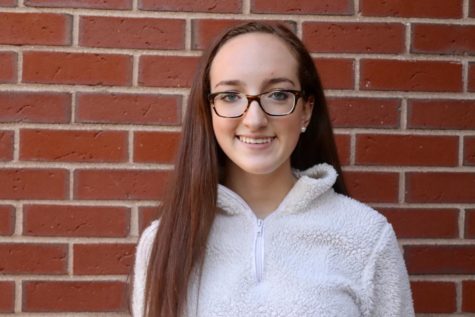 Taylor McGuire, News Editor
Taylor McGuire, Class of 2022, is the news section editor for WSPN, and this is her second year in the staff. She is a part of Window Dance Ensemble at...