Field hockey captains named for 2021 season
In past years, WHS varsity field hockey captains have been announced at the end of season banquet, but due to COVID-19, the team was unable to have a banquet. Instead, head coach Shelly Fraser made the decision after the season ended and told juniors Sofia Barris and Julia Wegerbauer in-person.
"Our season ended in the worst way, with all of us having to quarantine which means we did not get a chance to have a final wrap up celebration," Fraser said. "I then made my decision for captains for the 2021 season based on the leadership I have seen building in [Julia] and Sofia."
Fraser picked these two juniors together because of their ability to work well with each other. Barris and Wegerbauer have been on the varsity team since their sophomore year, and Fraser believes they each have qualities that benefit each other.
"I believe their personalities complement each other well," Fraser said."Sofia is a quiet natural leader that is very thoughtful in what she says and does. Julia is able to speak up when needed but is also able to listen and learn from others."
Wegerbauer and Barris have been close friends for a while, which means the two will be able to carry their friendship onto the field to make decisions together.
"I think Sofia and I will work great together because we both know when to be serious and when to have more fun," Wegerbauer said. "We've also been friends for a while, so it will be fun."
For Wegerbauer, the captain position is not new to her. She is familiar with the role which adds a benefit of experience and wisdom in this leadership position.
"I was a hockey captain this year, so I think I understand the role," Wegerbauer said. "We also had great captains this past fall who were great role models which helped pave the way for me and Sofia."
Barris does not have the experience as a captain that Wegerbauer does, but she believes she has the qualities that will bring the team success next season.
"I think I have relatively good leadership qualities, and I am motivated to bring our team to success," Barris said. "I have been on the team for two seasons now, so I know how everything works and have seen all the ups and downs."
One role for captains is to get a lot of people interested in the sport and to make sure everyone has a good time. Fraser believes ensuring that people have a fun season is one of the most important jobs as a captain.
"They are 'sales people,'" Fraser said. "They are selling a product of a great memorable season to a group of athletes. The outcome of the season rests on just how good of a sales person they are."
The newly named captains are hoping that the 2021 fall season will be more normal than this past year, which will allow the captains to resume past traditions.
"I definitely want to keep the running tradition and recruit some boys to play on our team," Barris said. "Also, I want to have a lot of team dinners and team bonding since last year we could barely spend time outside of practice due to COVID-19."
With a large graduating class, the team will face a rebuilding year in the fall. It will be up to the returners and newcomers to step up and fill this role.
"We have very strong returners, which I'm excited for," Wegerbauer said. "However, we are losing a lot of key players from the Class of '21 and our goalie, so it will be interesting to see who steps up. Although, I believe with new players and returners we can have a successful season."
Not only does Fraser have high hopes for the team, but the captains do as well. They have big goals for the season that they hope to achieve.
"I definitely want to make it to tournament this coming fall," Barris said. "I also want a lot of team bonding, so we can have a close team."
Ultimately, a lot of responsibility falls on the captains. It will be their job to lead the team and generate success.
"In the end, this is their season," Fraser said. "They are putting in the work to be here each day. I am just a facilitator of learning life's lessons through the game of field hockey."
Leave a Comment
Donate to Wayland Student Press
Your donation will support the student journalists of Wayland High School. Your contribution will allow us to purchase equipment, cover our annual website hosting costs and sponsor admission and traveling costs for the annual JEA journalism convention.
About the Contributor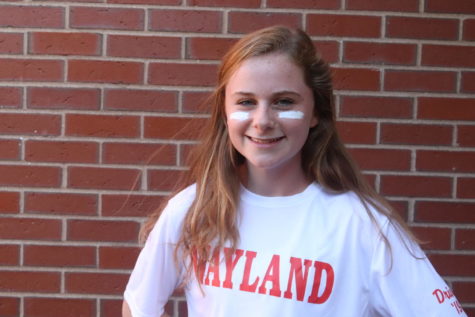 Julia Raymond, Copy Editor
Julia Raymond, Class of 2022, is a copy editor for WSPN. She does soccer and lacrosse for Wayland High School. Outside of school, she enjoys spending time...