On Sunday, Oct. 1, the Eliza J. Norton Foundation organized a community celebration on the Cochituate Ball Fields to honor Eliza's life. The event took place from 2 p.m. to 5 p.m., and offered various free activities including face painting, hair dying stations, bouncy houses and food trucks.
"It's just really a day to thank the community for this year and everyone," Advisory Council member Miti Koopersmith said.
Since people attended free of charge, the foundation raised funds through donations from community members and sponsors. On their website, a few sponsors are listed which include Spark Salon, btone FITNESS Wayland and ohDEER. Kiss108 sponsored the event as well, and Kiss 108's Mikey V served as the Master of Ceremonies (MC) for the event.
"The community really came together and showed up. They are not only lending tables, but also managing the lines. They have really shown up the same way a lot of business sponsors [have] said, 'I'm here to help, what can I do?'"
— Miti Koopersmith
On the foundation's website, Eliza was described as a "bright, active girl" who enjoyed playing sports. To honor her legacy, the celebration featured a youth kickball game for the young athletes in attendance. Furthermore, various Wayland High School sports teams, including the field hockey team, football and girls' soccer teams, volunteered to help run various stations and athletic activities.
"I think [the celebration went] pretty well and [there was] such a great turnout of people," volunteer sophomore Caoilinn Donohue said. "The celebration means a lot to me because it really shows how one community can get together and put something on for remembrance and positivity to live life like Eliza. It's really important to me that everyone showed up [to] make the most of such a wonderful day."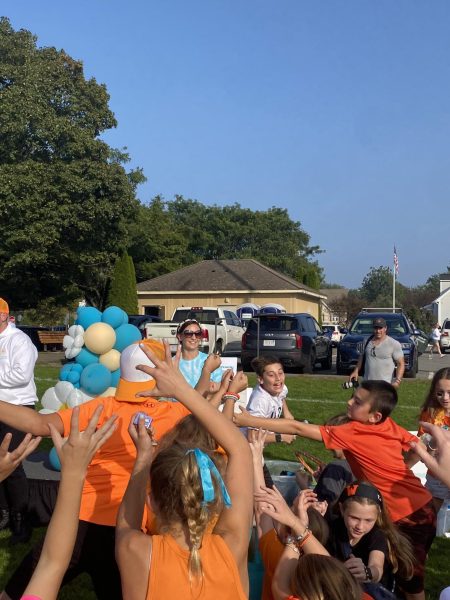 The foundation is a nonprofit organization started by Wayland's Julie and Mark Norton, whose 10-year-old daughter, Eliza J. Norton, passed away on Sept. 21, 2022. According to their website, the foundation was started to honor Eliza's legacy.
"In January of this year, the Norton family started the foundation to empower children, enable play and expand access to sports for all athletes," Advisory Council member Risa Burgess said. "They have really done a tremendous job in such a short period of time."
In addition to hosting the community celebration, the foundation also has various other goals. One of their current projects is the "Park Project," which strives to make some renovations to Cochituate Park, such as adding dugouts.
"They have [also] sponsored new uniforms for the Wayland Middle School (WMS) hockey team and supported a non profit hockey program," Burgess said. "There's so much more to come [in regard to] improving our public spaces in Wayland. We are just so grateful for the foundation."
As the foundation continues to grow and expand its reach in the community, Co-Chair Julie Norton keeps one goal in mind.
"I want everyone to remember her joy, how much she loved being around other people and how much she liked bringing people together," Norton said. "We just want to continue that legacy for everyone else here in Wayland."