ICYMI: Week of January 18- Winter Week, demise of Democracy, NFL wildcard weekend
In the weekly series, "In Case You Missed It," News Editor Taylor McGuire summarizes stories from the past week with links to the corresponding WSPN article.
News:
Staff reporter Brasen Chi got the latest details on Winter Week from the administration and Student Council, and WSPN's Joanna Barrow spoke with Wayland resident Michael Delman about declaring Wayland in a climate emergency.
Staff reporter Genevieve Morrison asked students their thoughts on the various COVID-19 vaccines and whether they think it's safe or not, and staff reporter Isabella Ciasullo reported the Family Promise club's cleaning supply drive for those in need.
Features:
Staff reporter Alexina McQuilkin interviewed students about their feelings on returning to school after winter break, and editor Katherine Kim along with WSPN's Caterina Tomassini discussed how the world responded to the "protests" at Capitol Hill.
WSPN's Sidney O'Rourke and McQuilkin conversed with students who have been infected by COVID-19 and how they have recovered from it.
Sports:
Editor Sammy Johnson and staff reporter Delia Caulfield spoke to sophomore Lucy Grasso, one of the few girls who has played on the male-dominated golf team.
"My first match of the season was definitely my favorite," Grasso said. "My score was pretty good for it being the first match I had ever played in, and it was so cool to be the only girl on the golf team and get to start in the very beginning.
Multimedia:
Editor Emily Staiti and reporters Jessie Feist and Nandhana Nair took pictures of the virtual inauguration of President Joe Biden at Wayland High School on Wednesday, Jan. 20. Meanwhile, reporter Kate Clifford and Staiti published a gallery from the girls basketball game where they lost to Bedford.
A&E:
WSPN's Haley Melvin gave a glimpse into the life of a WHS basketball player by sharing their playlists.
"The playlist affects the team a lot because if the songs aren't good, we'll be less prepared for the game and less hyped," junior Ryan MacDonald said.
Opinion:
On the day of the inauguration, editor Atharva Weling published an opinion piece, "Where do we go from here," sharing his thoughts on the state of America after the events on Jan. 6, 2021.
Staff reporter Emily Roberge expressed her opinion on the phone call between Donald Trump and Georgia's Secretary of State, Brad Raffensperger, and how it displayed utter delusion.
Broadcast:
WSPN's Deirdre Brown along with staff reporters Jacquline Cahaly and Ellie Smith recorded the 13th episode of "Weekly Breakdown," and they also recorded their eighth episode of "Healthy Living" with a special guest, senior Hilla Almog.
Editors Josh Schreiber and Garrett Spooner alongside staff reporter Michael Nechipurenko published their third episode of season three of "Wayland Sports Chat." This week, they discussed the latest major sports news including the NFL wildcard weekend, the blockbuster NBA trade sending James Harden to the Brooklyn Nets and previewed the 2021 NHL season.
About the Writer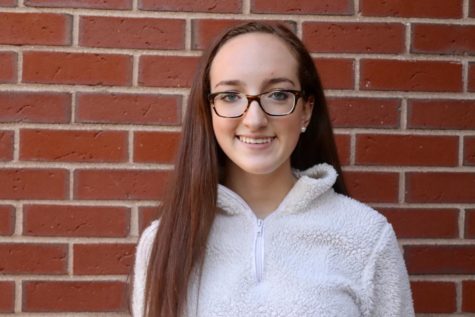 Taylor McGuire, News Editor
Taylor McGuire, Class of 2022, is the news section editor for WSPN, and this is her second year in the staff. She is a part of Window Dance Ensemble at...