ICYMI: Week of November 16- Winter sports, pumpkin munchkins, Spirit Week
In the weekly series, "In Case You Missed It," News Editor Taylor McGuire summarizes stories from the past week with links to the corresponding WSPN article.
News:
Business manager Jimmy Paugh spoke with elementary school teacher Maureen Devlin and her former students about her decision to retire due to health concerns related to COVID-19.
Reporter Brasen Chi wrote about the lack of computer science classes at Wayland High School this year, and how this lack prompted the adaptation to a more structured computer science club than years past. Chi also dug deeper into the utilization of social media to campaign in the class of 24's freshmen officer elections.
Editor Taylor McGuire updated readers about the new COVID-19 testing program that will be starting in December, and how Nurse Basbas will be replacing Nurse McLeod starting on Monday, Nov. 23.
McGuire alongside reporter Genevieve Morrison discussed the annual tradition of Spirit Week and how it will be different this year with Student Council President Elizabeth Zhong and Vice President Porter Moody.
Sports:
WSPN's Garrett Spooner talked with various participants in winter sports about their optimism for the coming season, and WSPN's Julia Raymond spoke specifically with the girls varsity basketball captains about their plans for the season.
Raymond also looked into WHS senior Mark Batarekh's fall clean up lacrosse fundraiser.
Multimedia:
Reporter Julia Wegerbauer filmed a video of her pumpkin munchkin recipe for readers to recreate and enjoy.
"This is a perfect recipe for a cozy, fall afternoon," Wegerbauer said. "Indulge yourself with this pumpkin pie munchkin recipe. They are easy to make and even easier to eat!"
A&E:
Guest Writers Sophia Mastrangelo and Maria Perdomo added on to their series, "Bachelor Rewind," where they keep readers up to date on the latest updates. Meanwhile, editor Alyssa Dickstein published another installment of her series, "The Good News."
Opinion:
WSPN's Jonathan Zhang dabbled with the thought of whether he identifies as American or Chinese in his column, "American Born Chinese." Zhang also expressed that Thanksgiving is not the only day we should be giving thanks.
Reporter Max Brande shared how he believes voting in elections is one of the most patriotic ways to express your rights as an American citizen.
Broadcast:
WSPN's Deirdre Brown and reporters Jacqueline Cahaly and Ellie Smith recorded their fifth episode of "Weekly Breakdown" where they discuss the latest local happenings and news. Smith and Cahaly along with broadcast editor Remmi Shaw also broadcasted their third episode of "Healthy Living," and this week they talked about Thanksgiving.
Spooner and Brande worked on episode five of season two for Sports Junkies. In this recording, they summarized the NFL's 10th week and previewed the 11th week.
About the Writer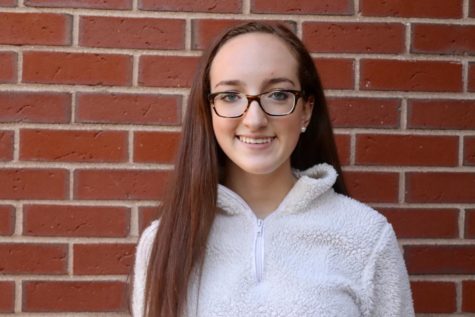 Taylor McGuire, News Editor
Taylor McGuire, Class of 2022, is the news section editor for WSPN, and this is her second year in the staff. She is a part of Window Dance Ensemble at...