ICYMI: Week of December 14: Snow storms, drive-in performances, socialism
In the weekly series, "In Case You Missed It," News Editor Taylor McGuire summarizes stories from the past week with links to the corresponding WSPN article.
News:
Editor Taylor McGuire updated everyone about how both cohorts attended class remotely on Thursday, Dec. 18 due to a snow storm making roads dangerous.
Features:
Reporter Alexina McQuilkin shared 10 ideas for gifts to give someone this holiday season.
"It is time to give back and show appreciation to friends and family," McQuilkin said. "Here are 10 fun and popular gift ideas spanning a range of prices for the 2020 Holiday season!"
Sports:
Co-Editors-in-Chief Meredith Prince and Ellie Tyska spoke with seniors who have committed to colleges for various sports, and sports co-editor Dante Coppola wrapped up the talk about fall sports with a piece on fall sports' playoffs.
Reporter Max Brande wrote a Warrior Weekly focused on the NFL, and WSPN's Garrett Spooner along with reporter Aditya Weling transitioned the talk over to winter sports with their article on how winter sports will have to played without fans in the stands.
Multimedia:
Multimedia continued their 25 Day Holiday Countdown with ideas of charities to support, holiday themed quizzes, stocking stuffer ideas and more. Prince and Tyska also published a gallery of what the WSPN staff did during their all remote day on Thursday because of the snow storm.
A&E:
WSPN's Haley Melvin covered WHSTE's drive-in performance of "Seul." Meanwhile, guest writers Sophia Mastrangelo and Maria Perdomo added onto their series, "The Bachelor Rewind," where they summarize (with spoilers!) the latest happenings in ABC's show, The Bachelorette.
Opinion:
WSPN's Jonathan Zhang wrote a piece in response to one of his articles in his column, "American Born Chinese," that said "this is child abuse."
Reporters Emily Roberge and Raymond wrote about Vanderbilt University's soccer team goalkeeper, Sarah Fuller, after she was called in to play a football game, making history as a woman. Meanwhile, opinion editor Atharva Weling defended socialism and explained what being a "socialist" really entails.
About the Writer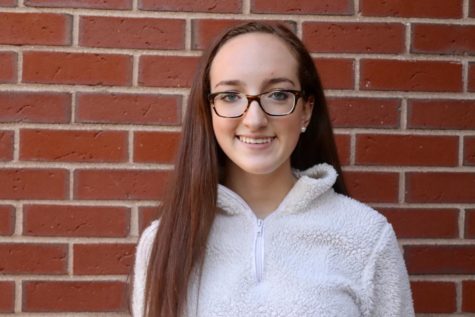 Taylor McGuire, News Editor
Taylor McGuire, Class of 2022, is the news section editor for WSPN, and this is her second year in the staff. She is a part of Window Dance Ensemble at...