Ethan Dolleman announced as new Vice Principal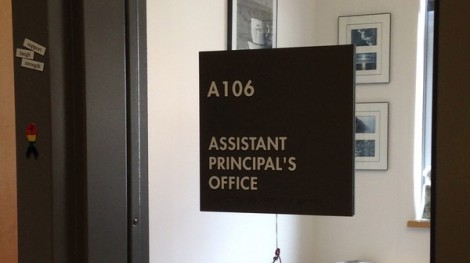 Ethan Dolleman will become Wayland High School's new assistant principal on July 1. He was chosen right before April vacation. He will be replacing Allyson Mizoguchi, who will become principal.
"I really look forward to the challenge of my new role. I look forward to meeting the students and faculty of Wayland and how I can best help a tremendous school continue to be excellent," Dolleman said. "I expect to learn a ton, but am really excited by that prospect."
Since 2005, Dolleman has been a social studies teacher, club advisor and tennis coach at Westwood High School. Before teaching at Westwood High School, Dolleman taught in Maine and in Sudbury, Massachusetts. Dolleman is a graduate of Bates College and is currently completing his master's degree in Educational Leadership at Boston College.
"He will be a new leader…he's bringing a lot of fresh ideas — ideas that have been tested as part of his internship this past year," Assistant Principal Allyson Mizoguchi said. "This will be his first assistant principal position, so there will be a lot of learning — learning together, since it will be my first year of being principal."
The job offer was posted February 14 on SchoolSpring, a website for education job openings. At the beginning of March, Mizoguchi, Dean of Students Scott Parseghian, and Assistant Superintendent Brad Crozier sorted through the 125 applications they received and narrowed their search down to 18 of the applicants. Mizoguchi and Parseghian then called all 18 applicants for 20 minute interviews and asked them questions about their experience and skills.
"[Dolleman] is extremely smart, extremely articulate and loves being with high schoolers. He was on a trip to Costa Rica with students from Westwood High School over April vacation. He's just that kind of educator that really enjoys being with teenagers, so that really stood out for us," Mizoguchi said. "He also spoke a lot about the health and balance of students and how important that is. We felt that was an important priority for our next assistant principal to keep in mind."
Following the phone interviews, eight of the 18 candidates were called in to meet with a committee comprised of Mizoguchi, Parseghian, several teachers, junior class president Ben Porter and a parent, Janet Carmichael.
"[Carmichael] actually works with us but also has students coming into the system, who have left the system, and who are currently in the system, and we thought that her perspective would be very valuable as well," Mizoguchi said.
Four of the eight candidates moved on to the next stage. These four candidates were interviewed by a committee made up of department heads. After the interviews, Mizoguchi met one-on-one with some of the finalists.
Finally, Parseghian and Mizoguchi made their decision based on the committee input and also all of the information that they had at that point.
"The fact that he's currently a full time experienced teacher, he's in the classroom, was very attractive to me, personally. I have been out of the classroom for a certain number of years as well as Coach P.," Mizoguchi said. "I think it's important that one of the administrators has that recent experience and bringing that recent experience to decisions that will form the direction of our school."
Dolleman will be in charge of discipling juniors and seniors, class scheduling and evaluating and supervising teachers. He will also support the math, science, English, history and language departments with their curriculum planning along with communicating with families and the guidance department. Dolleman may also co-teach the Youth Leadership elective with Mizoguchi next year. This elective prepares student leaders by teaching them how to lead, organize and manage groups, such as clubs or athletic teams.
"My most important plan is to get to know the students and faculty of Wayland High School and figure out how best to help Wayland continue to be the great place that it is. I certainly do not have a lengthy agenda of changes to make or anything like that, but I do have some ideas about how to serve the teachers and students the best way that I possibly can," Dolleman said.
Dolleman will attend some department meetings to meet some of the faculty later this May. He will also be at the faculty meeting in June to meet more teachers and staff.
"We want some opportunities before the end of the school year for him to meet with students," Mizoguchi said. "He talked about having lunch with students, walking around classrooms to introduce himself too, so he's ready to and eager to get started."
Dolleman will officially be introduced to the students at the beginning of next year.
"Once I get to know the students, faculty and culture of Wayland better, I hope to be very active and engaged," Dolleman said.