WSPN interviews some of WHS' most fashionable students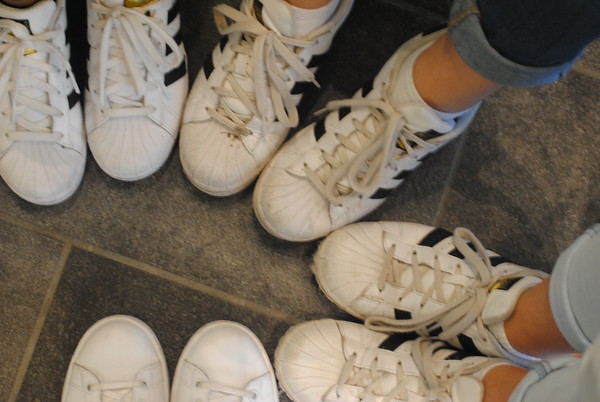 What defines someone as "fashionable" or "unfashionable?" Is it their ability to keep up with and predict the latest trends? Is it their ability to find unique and interesting items of clothing? Or is it their ability to create and maintain a distinct "look" that distinguishes them from the rest?
We asked some of the most fashionable students at Wayland High School what they thought "fashionable" meant, where they find their clothing, where they find their inspiration and how they put an outfit together.
"When people think about fashion, they usually picture trends and what's 'in' and 'out.' Those things aren't important though," senior Amanda Keyes said. "Just wear what makes you happy and confident."
Keyes likes to shop at thrift stores and the sale section of Free People and Anthropologie because they have unique pieces.
"Not only are the items less expensive, but usually they're more unique," Keyes said. "People don't buy them in the regular section because they're too different or something like that. But my goal is to be different, so they're perfect."
Senior Jordan Brofsky and junior Jordan Rubin buy most of their clothing at LF.
"LF is definitely my favorite store because they have a really large range of clothing, so it's easy to find almost anything I may be looking for," Brofsky said.
"I buy the majority of my clothes there, and they are always the first to have the newest trends," Rubin said.
Sophomore Lauren Campbell said that her style icon was her older sister, Katie Campbell, who graduated in 2016.
"My inspiration for my style comes from Katie's closet," Campbell said. "She wears a lot of very European inspired clothing, which I love."
Rubin's style icons are celebrities Amanda Steele and Maddi Bragg.
"They put together pieces I would never think to put together. I love that they know how to dress up and dress down but still look put together," Rubin said
When it comes to inspiration, Keyes always goes to Pinterest. She has recreated outfits she's seen on Pinterest with items she owns. When it comes down to actually picking out the outfit, she plans it out the night before.
"I usually start with one item of clothing or jewelry that I know I want to wear," Keyes said. "I then build the rest of the outfit off of that one piece of clothing or jewelry. I pick out the accessories, shoes, jacket, everything. It's all planned down to the very last detail."
Rubin usually picks out her outfits based on the day's weather.
"I love to wear brighter colors when the sun is out and darker, comfier clothing when the weather is gross," Rubin said. "If I have a piece of clothing I know I want to wear that day, I will put my outfit together around that."
For Brofsky, the best thing about fashion is putting together outfits and creating new looks.
"I pay attention to what stores are selling and am always looking for something different and trendy, but I don't really read about fashion or anything like that," Brofsky said. "It's fun to put together different outfits, and I like to look nice most of the time, so I love to shop and find new things."