Season recap: Boys varsity basketball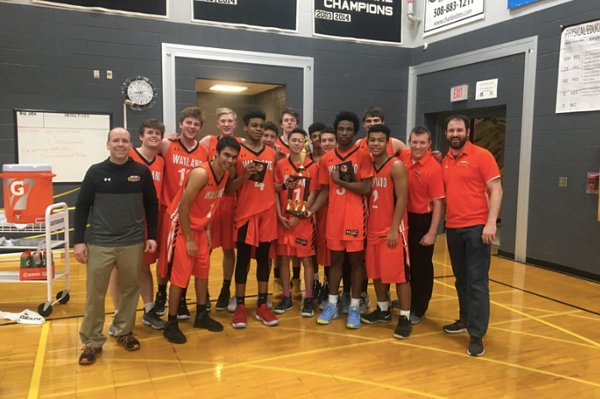 The Wayland boys basketball team's season came to a halt after a tough 48-49 loss to the Central Division's No. 1 seeded Westborough High School on Monday, March 4.
However, there was more to this season than just a second round playoff exit for the Warriors. It was their first playoff appearance since 2015 when they lost in the first round to Hopkinton and the first time they won a playoff game since they made it to the Division III North semifinals back in 2013.
"Our season was decent," junior co-captain Jaden Brewington said. "We showed a lot of talent, things like that. To come off of a stretch where we didn't make playoffs for about four years, it showed a lot that we made it this year. We not only made it, but we won a tournament game, so it's a step in the right direction."
Junior co-captain Jack Melvin felt that the season was very important not just for the team but for the entire Wayland basketball program.
"Wayland basketball, for the past couple years, has kind of been overlooked [as] not really the main sport, especially for winter," Melvin said. "But I think this season, [by] making a pretty good run in the playoffs and being the last winter sport, [we] kind of put us back on the map a little bit. So, I think it was a big success for the program of Wayland basketball."
Melvin also felt that his teammates bonded as a team in order to battle tough opponents in their schedule. He also credited head coach Dennis Doherty for making sure they were ready to play every day.
"We had a really tough beginning of the schedule, but the whole team bonded together and brought it every day during practice [while] pushing each other, so we were always prepared for the next game with the help of coach Doherty, who has always had a game plan and just an outlook on the other team," Melvin said. "So, from the coaching staff to the players pushing each other and bonding outside of practices, I knew that we were going to have a good season from the get-go."
Brewington emphasized how proud of his team he was for stepping up and battling every game. He especially raved about the players who contributed from off of the bench.
"I was very proud of my team because they just kept the energy," Brewington said. "There were a lot of games where certain guys that are normally the mesh of our team or the engine of our team didn't play as well, and those guys that came off the bench, they just came and did what they had to do."
Brewington then added some insight on their intense practices in which the second lineup worked the starters hard.
"[The bench players], quite frankly, won a pretty good amount of games for us," Brewington said. "In practice, we do 'Team One' and 'Team Two' where it's basically starters [against] anybody else. Those non-starters, they work hard and they kill us every day in practice. I'm just very proud of that second lineup because I know it's tough when you don't play as much to still stay engaged, but they were humble, and they stayed hungry."
Just days after the loss to Westborough, Brewington thought over how the season went and gave his input about what he got out of the season.
"One takeaway from the season is that you can't take things for granted," Brewington said. "We had a great opportunity against Westborough [and] ended up losing by one, but that was supposed to be our bread and butter to get to the next round, and from there it should've been downhill. It just showed that we can't take anything for granted."
Overall, Melvin and Brewington both agreed that they wanted to see the boys play their best game next season and hopefully come home with some hardware.
"I just think that we're going to be really good because the teams that we did lose to this year are senior-laden," Brewington said. "Their seniors are gone next year, and they have to rely on their younger guys. I like our chances [when it's] our younger guys versus theirs. I just see us being state champions next year. That's honestly the goal."