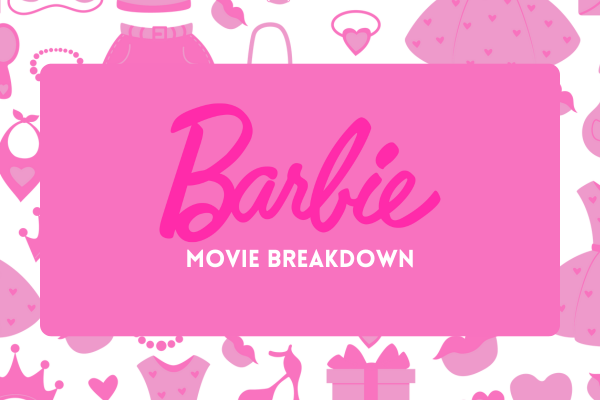 From what started as the average little girl's doll collection, "Barbie" has grown into an icon. Over the course of half a century, the franchise has found itself stepping foot into hundreds of industries, expanding towards apparel, food, film and much more. Barbie has already made a mark in the film industry, with over 43 movies with animated characters that stay PG from start to finish. However, on July 21, the first ever live-action "Barbie" movie was released, causing hundreds of thousands of fans to rush to the movie theater on opening weekend to watch the film, dressed head-to-toe in hot pink and sequins.
Our expectations for "Barbie" were low. We expected it to be a movie that was only comical because of how horrible it was, like Tommy Wiseau's infamous "The Room," and for the first three-quarters of the movie, we were right. Witty, ironic and satirical jokes delivered by Ryan Gosling and Margot Robbie were pure entertainment.
The movie starts with "stereotypical Barbie," played by Margot Robbie, in her luscious dreamhouse. She wakes up with a full face of makeup and her closet machine dresses her in fabulous pink couture. Bedhead doesn't exist in "Barbieland." This seemingly perfect world is everything a little girl wants: fashion, beauty, friends and romance. She's accompanied by Ken, played by Ryan Gosling, whose job is "beach." In "Barbieland," it is women who dominate the social and corporate world, while Kens just "beach."
This remains true until Barbie's permanent high-heeled feet become flat, something extremely uncommon in "Barbieland." She starts to have thoughts of death and has to travel to the human world to fix herself. Barbie quickly realizes that reality in the human world is flipped, as Mattel, the company that owns Barbie, is completely run by men. At the same time, Ken explores his newfound power as a man and falls in love with patriarchy. He becomes inspired to spread patriarchy in "Barbieland," beginning with turning Barbie's dreamhouse into his "Mojo Dojo Casa House." Now, not only does Barbie have to battle with her own identity crisis, but she also has to save the rest of "Barbieland" from patriarchy.
Director Greta Gerwig took her opportunity to be inventive with "Barbie." Many scenes displayed the misogynistic trap that women live in, especially in a society that claims to be progressive. In one scene, Gloria, played by actress America Ferrera, delivers a passionate speech directly stating some difficulties of womanhood. Ferrera plays the role of a mother that is struggling to watch her daughter give up her Barbies, so this speech is meaningful to both her daughter and to Barbie.
The music matches each scene perfectly. Much of the "Barbie" soundtrack was original and written directly for the movie. Artists such as Lizzo, Billie Eilish, Dua Lipa and Charli XCX created songs that fit the movie. It is not everyday that this collection of popular artists are found on one movie soundtrack.
During the last 30 minutes, the film took a slow turn into some heavy themes and topics that surprised us. Struggles of womanhood, society and body image striked Barbieland, and passionate monologues caused us to reflect on how the franchise has impacted our lives as teenage girls. Some viewers even shed a few tears in the theaters during these scenes.
"Barbie" was the movie of the summer. It was iconic, bold, and took risks that we weren't expecting, all whilst keeping the movie lighthearted, hilarious and nostalgic. While "Barbie" may not be your average kid's movie, that's what makes this movie that much better.