Warrior Weekly: Celtics receive third pick, Red Sox off to hot start
WHS Sports:
After getting off to a disappointing start, the boys' lacrosse team won three games in a row, boosting their record to 7-6. The team has a big game against Acton-Boxborough on Thursday. The girls' team currently holds a 10-5 record, with games against AB and Boston Latin on Thursday and Friday. Girls' tennis has had an amazing season so far. They've only lost one match and managed to knock off Concord-Carlisle, the defending state champs.
College Sports:
The NCAA Men's Lacrosse Tournament is underway, and it didn't take long for a major upset to occur. Towson beat Denver this past weekend. The Outlaws were hoping to repeat as national champs but came up short in round one. The college football opening weekend schedule was recently announced, and it's loaded. It will feature four games between ranked teams (#5 Oklahoma vs. #18 Houston, #13 Georgia vs. #19 South Carolina, #12 USC vs. #1 Alabama and #14 Ole Miss vs. #4 Florida State). Other games include Hawaii vs. #3 Michigan, #6 LSU vs. Wisconsin, #2 Clemson vs. Auburn and #9 Notre Dame vs. Texas. I can't wait. So many of these match-ups will have major implications on the playoff, and it'll only be week one. Being a USC fan, I think the Trojans' game against 'Bama is a great opportunity. Although it will be a tough game to win, there is nothing to lose. Everyone expects USC to lose, and if they manage to keep it close or win, than they have a statement performance under their belt.
Professional Sports:
After the Thunder's upset of the Spurs in the second round of the NBA playoffs, OKC managed to steal game one from the top seeded Warriors in the Western Finals. The combination of Westbrook and Durant has been proving to be too much for opponents to handle. Whichever team comes out of that series will most likely play the Cavs, who beat up on Toronto in their series opener. I'm not a fan of LeBron by any stretch of the imagination, but I do feel like it's Cleveland's year. They have been demolishing team after team in the postseason so far, going 9-0 up to this point. Either way, NBA fans will be treated to a star-studded finals match-up. Question is, would you like see Steph Curry and the Warriors go for the repeat and cap off their historic season with a title? Perhaps you'd prefer KD to win his first championship. Or, maybe you'd want the Cavs to capture their first Larry O'Brien trophy. The NBA draft lottery took place on Tuesday night, and the Celtics came away with the third overall pick. This is somewhat disappointing, given that we missed out on Ben Simmons and Brandon Ingram, but we can still draft a top tier prospect, or trade the pick for a star, veteran player. Lastly, the Red Sox are MASHING. Boston is off to a 24-15 start and is leading the MLB in most offensive statistical categories.
About the Writer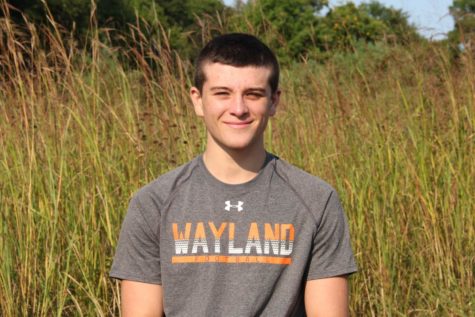 Duncan Stephenson, Editor-In-Chief
Duncan Stephenson is a senior at Wayland High School. He is one of three editor-in-chiefs of WSPN. This is his fourth year writing for the publication....