Opinion: Social distancing is going to get harder with warmer weather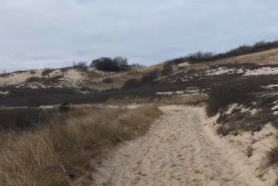 Things have been looking up for Massachusetts, but warm weather could put a halt to the state's progress. Temperatures are rising, the sun is coming out, and people are growing sick of being stuck inside.
This year, many people opened up their pools in early May, which is usually considered pretty early, but pools are becoming a hot spot as the temperature begins to rise into the 70s. Pools become a problem when everyone asks to come over; before you know it, there are more than 15 people at your house. It's hard to say no on a sweltering hot day, and the rules of social distancing become blurry.
Beaches are another hot spot to visit on a warm day during quarantine. With beaches beginning to open back up after being closed for so long, people will be rushing to the beaches first. The beaches are quickly becoming overcrowded as everyone wants to squeeze in for a spot under the sun. Many news stories have popped up regarding social distancing rules being broken: people sitting close to others, talking to friends less than six feet apart, and waiting in lines close together. It is hard to follow these rules while at the beach.
Since March, the weather has varied mostly in the 40s-50s and cloudy days have kept many people inside. But now, with sunny days, most people will want to get together. This can mean large groups of friends hanging out, wanting to include everyone after being isolated for so long. It's hard to reject plans when all ten of your friends are going.
If social distancing rules still apply this month when school is winding down, social distancing will get especially hard. Students will have no school work to complete, which is what is keeping many of them busy, and hanging out will become an everyday thing. The whole day will be free for most kids, making them want to be constantly doing something.
Soon enough, a decision will be made regarding summer camps. For many kids, this decides whether they will be working this summer. Overnight camps in Vermont and New Hampshire, where kids act as counselors in training or counselors, have already been canceled. Many teenagers will be unemployed and bored, so spending time with their friends will be the only thing they have left. Wearing masks and standing six feet apart will most likely not be on their mind.
To make up for the loss of a spring season, student-athletes will want to get a head start on preparing for the fall season. This means practicing with other kids, and the turf will soon become a popular destination. It will be hard to social distance when practicing sports with friends because many times, practicing means competing in small-sided games against each other with contact.
Restaurants will be opening up, and seating will most likely be outside, although I doubt each table will be spaced exactly six feet apart. After losing so much business, restaurants are going to try and take as many customers as possible, even if it means bending the rules.
This lockdown has left many students feeling sad and nostalgic for their high school memories and classmates. Summer will be the time when kids want to make up for the lost time and make memories, and social distancing will not be on their minds, just making the summer of 2020 the best it can be.