Pacifists at War releases first full album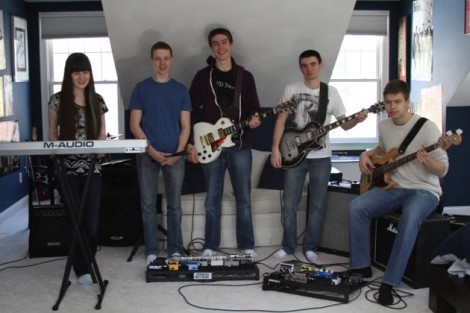 Pacifists at War has recently released its first album, "Sleep Now and Forever Hold Your Peace." The band is comprised of five members: Lincoln-Sudbury students Andrew Tegeler and Nora Telford and WHS seniors Matt Cooper, Alex Karle and Charlie Cundari.
Pacifists at War was formed in 2010. They play alternative rock and cite different music genres like punk, indie and ambient as inspirations. The members are also inspired by many different artists such as Brand New, The Republic of Wolves and The Dearhunters. They also see Aer, another music group from WHS, as an inspiration for what's possible and have spoken with them for advice.
The band's album was released on January 31 on iTunes, Spotify, Google Play and Amazon. It consists of 11 songs produced by Hearing ADE Productions, a local recording label based in Andover, Massachusetts. Prior to this, Pacifists at War had released an EP titled "Egress."
"I met [Alex Emelianoff, the owner of the label] at a show I was playing solo a couple of years ago," Cooper said. "He really liked my stuff, and he ended up mixing our first EP which we put online for free. He liked our stuff, so he asked us to sign to his label."
"It's interesting hearing the finished recordings because I wrote the songs for our newest album. We started writing them our freshman year, and it's taken the past three years to finally get it all out," Karle said.
The members recorded on multiple days, staying in the studio anywhere from eight to 24 hours at a time. The day that they stayed for 24 hours, they set up a Twitter account and tweeted throughout the day.
When writing songs, the members usually write the music first and then the lyrics.
"Alex or I will come up with a riff on guitar or some chords, and we'll get together and hash it out into a full song," Cooper said, "Lyrically, I usually have the music down first, and I kind of space out on all these ideas that I've been thinking about lately until I get one or two ideas that I really like, and then I just roll with those. I generally don't try to go for any meaning when I'm writing at first. It develops fully as I'm writing it."
The band members haven't decided whether they will continue with the band after graduating from high school since the members are planning on going to college in different places. For now, they are working on their second EP and playing live shows around Boston and Cambridge. They are planning on including four or five songs in this EP, and they hope to release it soon.