Spring and Summer Fashion
With summer around the corner, the weather is getting warmer and warmer, and the season for cute clothes has arrived. We've listed the some of the top trends for summer 2018 along with links.
Overalls – These have made a comeback into the fashion industry this spring. Overalls come in many different forms: skirts, shorts, or pants. These are great for layering a cute shirt underneath. 1/2/3
Rompers – Rompers have been in style for a few seasons now and this season they continue to stay popular. Need something fashionable and quick to put on? A romper is the best option. Rompers go great with almost any shoe: sandals, flip-flops, fashion sneakers, etc. 1/2/3
Jumpsuits – Recently, jumpsuits have become very popular. Between the spring and the summer, jumpsuits fit almost any weather. At stores like Free People, Urban Outfitters and TopShop, jumpsuits range from boho to edgy. 1/2
Tube tops – Stores like Hollister, American Eagle, PacSun, and Garage carry tube tops in stock almost all of the time. These are a great piece to add on to either high-waisted shorts or denim skirts. 1/2/3
Platform Sandals – Platform sandals are perfect if you want a comfortable but fashionable heel. These are great to dress up an outfit because they have the looks of a heel, but the comfort of a flat. Stores like Nordstrom Bloomingdales have a large selection of platform sandals. 1/2/3
Jean Skirts – In the warmer seasons, everyone wears shorts. However, recently, jean skirts have become super popular because they are an alternative to the more basic shorts. Jean skirts are both cute and comfortable. They go great with plain or detailed tops and can be matched with almost any shoes: fashion sneakers, flip-flops, etc. 1/2
Espadrilles – Espadrilles have really come into fashion recently because they're comfortable and can add a lot to a simple outfit. They come in many different colors, so they go great with so many different outfits. Stores like Nordstrom, DSW and Dillards all offer these fashionable shoes. 1/2
Off the Shoulder Tops – This style made a huge comeback last year and continues to be in fashion. The design of these shirts are great for summer and spring weather and go great with any jean bottom, from shorts to pants and skirts. Stores like American Eagle, Forever 21, Urban Outfitters and Hollister usually have a variety of off the shoulder options. 1/2
Skorts – Skorts have become very popular because they can easily be dressed up or dressed down. The cute style goes great with plain or detailed tops and can be worn almost anywhere. Skorts are so popular because they're a quick option to make a really fashionable outfit. 1/2
Rose Gold – This fun color is very in and goes great with whites, pinks and other golds. From rose gold shoes and tops to rose gold jewelry, this color has become very popular to make an outfit go to the next level. 1/2
About the Contributor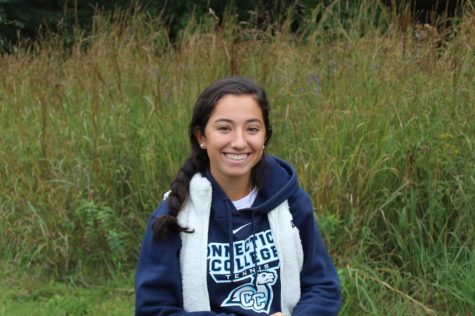 Nicole Erdekian, Social Media and Pop Culture Editor
Nicole Erdekian, class of 2019, is the social media and pop culture editor this year. She is in her second year of journalism. In her free time, she plays...