Artist of the Week: Will Danforth
Danforth soloed in the T-Tones' medley of Slow Dancing in a Burning Room by John Mayer and Die a Happy Man by Thomas Rhett. For more Wayland A Cappella videos, check out their Youtube channel here.
Will Danforth, co-director of Wayland High School Testostertones, will be taking his musical talents past Wayland High School, as he plans on pursuing singing at a music college next year. Although performing on a stage is scary for most people, it isn't for Danforth.
"For me, [performing] is not only therapeutic, but it's [also] fun. Being on stage is where I'm the most comfortable. When I sing I become a different person," Danforth said.
Singing has been a big aspect of Danforth's life ever since he was a young boy.
"I started singing before preschool. When I was really young, my mom would take me to a music group for toddlers. I started singing there, and then I sang all the way up to kindergarten through grade school, [and until] now," Danforth said.
Danforth says being a regular member of a cappella was fun because he didn't have a lot of responsibility, and he got to hang out with his friends. As a director, his role is a different– he takes on a larger administrative responsibility.
"We have to coordinate with [the] administration to make sure we have concerts on time," Danforth said. "We have to figure out ticket prices, we have to figure out if we are making another album, and [we need to] find gigs to go different places–we sing at Traditions or other schools or [places] like that."
As a director of the T-Tones, Danforth has to put in more time and effort due to the extra responsibilities of being a director versus being a regular member. However, he says it is all worth it.
Although he loves the T-Tones' music, Danforth says spending time with friends is his favorite part of a cappella.
"The fact that different people can come together to make songs just using their own singing [is really cool]. [However,] the guys I'm in the group with, and all the people that I get to sing with are almost like a family to me," Danforth said.
His comfort on stage has given him the ability to be able to pursue singing in college next year.
"[Singing has] completely changed my life, [and] it's the career path I'm choosing. I'm going to a music college, it's a hobby that I've kept through my entire life. It's kind of something I base my character around. I'm very excited to sing in college."
About the Contributor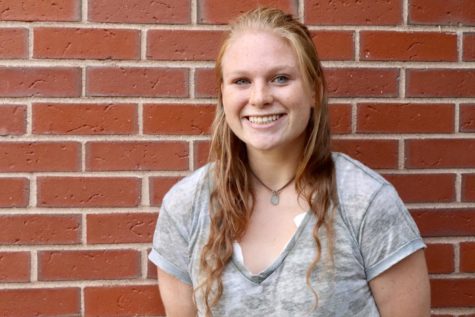 Caitlin Newton, Managing Editor
Caitlin Newton, class of 2020, is in her third year of journalism. She is the managing editor this year and was the features section last year. She plays...