Lily Tardif: There was never a time I wanted to quit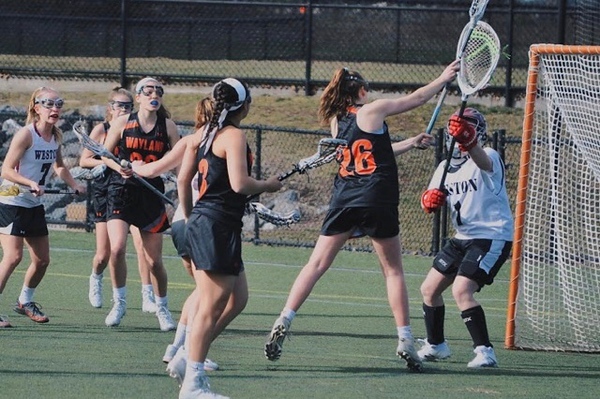 Entering sophomore year has its perks. One is no longer a freshman but doesn't carry the responsibilities of a junior. For many, sophomore year is about finding a happy medium before stepping up to the plate to figure out where you belong in the coming years after high school. However, Senior Lily Tardif experienced a different type of sophomore year. After years of hard work and dedication to lacrosse, fifteen year old Tardif was deciding what college she would commit to playing lacrosse at post-graduation from WHS.
"I started playing lacrosse in second grade because my mom made me try it," Tardif said. "She had played lacrosse [when she was growing up] and all my friends were doing it. It was always my favorite. When I was younger, I thought that I was better than everyone, so I was that annoying kid who would score a bajillion goals, [which was why] I liked it."
Tardif started playing lacrosse at the youth level throughout her elementary and middle school years, loving it more and more each year. Alongside lacrosse, she played soccer, but unfortunately had to quit the sport after her freshman year because of lack of time.
"I loved soccer," Tardif said. "I liked [soccer and lacrosse] both equally until high school, which was a long time, but I couldn't balance it on my plate with all the visits and [work] I had to do for lacrosse,"
When Tardif reached middle school, she knew she wanted to play lacrosse more than just a few months out of the year.
"A bunch of my friends joined [club teams in seventh grade] and I then realized I wanted to join too, but my parents wouldn't let me for another year because that's when they thought I was old enough," Tardif said. "So, I joined [a club team] in eighth grade."
This helped Tardif develop a passion for the sport, which led to her commitment to becoming a serious player.
"I'd really wanted to [join club], so it was really exciting," Tardif said.
After playing club year-round in eighth grade, Tardif knew that she had a love for this sport like no other. She was determined to play lacrosse after high school and was ready to put the work in.
"I would practice on the wall and shoot pretty much every single day because I was a crazy freshman who was obsessed with lacrosse," Tardif said. "It was my life, so I basically practiced [as much as I could, even in the snow. [Lacrosse] definitely didn't always come [instinctively] to me."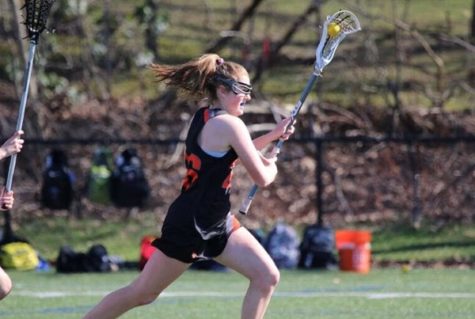 Playing wall ball and shooting every day played a key role in Tardif's growth as a lacrosse player. Tardif is grateful to have such an easy outlet to always have access to.
"[Practicing every day] really made me learn to be hardworking and grounded because it really helps me do my own thing and I can always play lacrosse if I need something to do," Tardif said.
Tardif is also appreciative for the sport in a social manner.
"[Lacrosse also] gave me some of my best friends which has really been fun," Tardif said.
During her freshman year, Tardif began the recruiting process. While she is very thankful for where she is now, the process was not easy.
"It was not very enjoyable, but it all happened quickly between my freshman and sophomore year," Tardif said. "It basically took over my life, [and] it was all I did. After school, I would send emails to college coaches."
No matter how stressful it sometimes was, there was never a time where Tardif wanted to quit. According to Tardif, picking a school at a young age wasn't a problem for her.
"It was something I'd always wanted to do, so when I would think about college, I knew that'd I'd be picking a school relatively quickly," Tardif said.
Tardif is thankful to her parents for supporting her through the process.
"I [experienced] overwhelming support. I just really had a lot of support and my parents never really pushed me that hard and kind of left it up to me to decide which had [always] really been good for me," Tardif said.
After making an educated decision with both her parents and coaches by her side, Tardif decided to commit to the Georgetown University Women's Lacrosse Team in February of 2017. She is planning to attend the university in the fall of 2019.
Leave a Comment
About the Contributor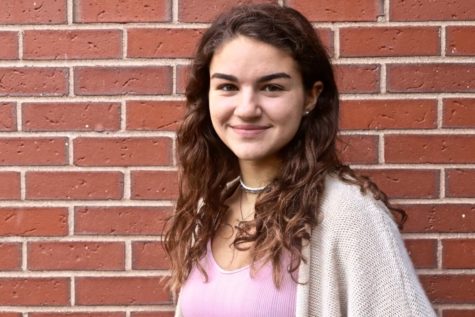 Christina Taxiarchis, A&E Editor
Christina Taxiarchis, Class of 2020, is the arts & entertainment section editor for WSPN, and this is her third year on the staff. She is on the Wayland...