WHSPO to host Late Night after prom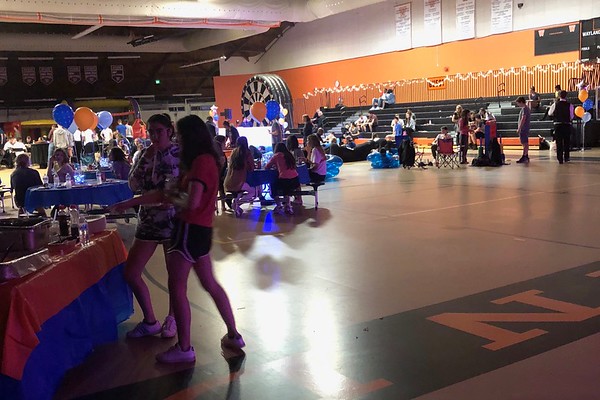 After partying with friends on the dance floor during prom at the Intercontinental Hotel in Boston, students are welcome to attend the Late Night event hosted in the field house. Prom is composed of many parts including Late Night, a time to relax and enjoy time with friends after the chaos of prom.
Late Night was intended to be a fun experience open to any juniors or prom attendees. This year, WHSPO, accompanied by Wayland Cares has implemented a new set of rules students must follow.
"There will be stricter rules during Late Night, meaning if you are ever caught with anything you will be sent home from whatever event you are attending," Class of 2020 President Ciara Murphy said. "If you are caught with alcohol at your pre-prom you will not go to prom or Late Night, and if you are caught at prom you will be sent home."
The purpose of Late Night is to make sure that there is only one after party after prom and ensure the safety of the kids by making sure nothing happens the weekend of prom.
"I know we want, as well as the parents running Late Night, to have the safest event possible," Murphy said. "It is not mandatory, kids are welcome to join. It is free, and parents are really encouraged to donate, since it is all based on fundraising."
For the past three years, Wayland Cares has been involved with the Late Night event. Member of the Wayland Cares committee, Jason Verhoosky, has helped assist the parents in planning Late Night.
"We were asked to support the event due to the fact that the overall mission of Late Night is to provide a safe substance free opportunity for students to continue their night and to have a safe and fun time into the later evening hours," Verhoosky said.
Although Wayland Cares isn't a part of the $18,000 to be raised, they have an annual monetary donation in the form of the gifts that students receive after prom.
"This year we are providing the luggage tags that will go on everyone's bags as well as another gift that will [be] your takeaway from the evening," Verhoosky said. "We originally supported [Late Night] by providing the gifts that you all receive at the end of Late Night. In the years past, we printed hats, t-shirts and towels,"
In order to make other activities come to life, WSPO is requesting for all parents of prom-goers to make a donation of $85. WHSPO's goal overall is to make an accumulation of $18,000 from donations.
"Overall, it is an encouraged $85 per student if you are going to attend Late Night because there is a lot of work that goes into it," Murphy said. "So we as a Class of 2020 do nothing through late night, it's all parent organized."
If the money is donated, WHSPO plans on serving different food options from last year for Late Night attendees.
"There will be a really long table with food that is commonly donated from local businesses, not from many parents," Murphy said. "It is actually really good food I love it honestly. [There will be] sushi from Takara, Chick Fil A, and Boloco, [and] all [of] this really awesome food after prom."
In order to have a fun filled late night this year, they hope to provide a wide variety of food donated from local businesses, many small activities, and a DJ.
"There are commonly huge inflatables, [and] last year there was a bull ride. In the middle, there were poker tables and many little activities such as fake tattoos, a magician, [and] a DJ," said Murphy.
Last year, vice president of the junior class Ryan Urato, was able to attend Late Night. Urato enjoyed his experience at Late Night. He hopes to have an even better experience this year.
"It was much more fun than I expected it to be," Urato said. "I thought it was just going to be people sitting around in the field house, but they had a bouncy house, a giant Jenga game, a DJ, a magician came in. It was so over the top, and there was a lot of food. It was so crazy."