Profile: Laura Cole
LS guidance counselor and Natick native arrives at WHS as assistant principal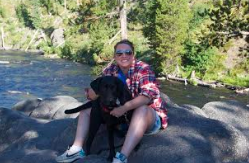 As WHS waves goodbye to Jim Nocito at the end of the 2018-19 school year, we officially welcome Laura Cole as a new assistant principal at WHS. Growing up right down the street in Natick, MA, Cole knows exactly what it's like to live the life of a high school student in the MetroWest area.
Cole began her career in education at an early age after graduating with a variety of qualifications. Her accomplishments include a B.A. in sociology from Framingham State University, a master's of education in educational organizational management from Endicott College and a master's of education in school guidance counseling from Cambridge College. After finishing her degree, Cole began her career in 2009 when she became a guidance counselor at Lincoln-Sudbury Regional High School.
Cole was one of the younger teachers when she first committed to working in the school industry and had set many goals as she began her career.
"Even when I was still young in my career, people wanted to know what I thought about things," Cole said. "That really empowered me to feel confident and say, 'I don't think this is right, and can we change it?'"
Cole hopes to accomplish some new goals entering the 2019-20 school year at WHS.
"I hope to bring the ability to empower other young faculty and students," Cole said. "[I] just really love [bringing]the ability to empower students and faculty to say the things they want to change and helping them reach that goal."
Having experience as a guidance counselor in the past, Cole is ready to listen to the student body as well as administration.
"I think that the most important thing is hearing student and faculty voices on changes that they want to see and the vision they have for their school," Cole said. "I really want to spend the first year just listening and taking everything in and then later determining the things that align with my vision of creating a welcoming school for everyone."
Cole was influenced into making the decision to switch from a guidance counselor to an assistant principal because of her past experience at LSRHS where she had the opportunity to work closely with the assistant principal there.
"As a guidance counselor, I get to help students and families, and sometimes I help a teacher with something such as working with a student," Cole said. "Being an assistant principal, I will have the ability to help everyone. I get to help the students, staff, a teacher struggling with something in class – or maybe if they are having an issue with a student, I can help [with] that."
Cole believes that discipline is important and she hopes to inspire students in the future.
"I think you have this ability to view more and help in more areas than you previously thought, and I believe that when discipline is done in a way that the student is reflective and can learn from it, it can be really instrumental later on in their life," Cole said.
Cole has had many experiences in the past that have impacted her life significantly. Some of her biggest accomplishments include becoming one of the first children in her family to receive a college degree. Other accomplishments include giving birth to her 2-year-old son and getting married.
"I would say the relationships I build here are huge accomplishments because I have been here since 2009 and I was really young when I started," Cole said. "I think I've formed some really great relationships with people that have been really monumental in my career."
During the fall season, you will often find Cole coaching youth cheerleading in Framingham for young middle school students. Cole was also a longtime softball coach, but Cole has put her coaching days aside after the birth of her son.
Lincoln-Sudbury and Wayland High share both many similarities and differences. In the eyes of Cole, she sees Wayland to be very different from LS. LS has a much bigger student body with close to 1,600 students, and WHS only has around 830 students.
"The students at WHS have grown up together, [and] some have been in school with each other since kindergarten," Cole said. "Even though you may not all be best friends, you have a memory with each other that could go back from when you first entered the schoolhouse doors."
Cole believes that Lincoln-Sudbury is different in the way that most of the student body did not necessarily grow up together.
"I think that that's something that is missing here at Lincoln-Sudbury. Most of these kids have been with each other since sixth grade, not kindergarten," Cole said. "They haven't had that special bond together that you have in Wayland [as a result of] being a smaller district and a smaller school."
Cole shares many memories as she departs from her previous job at LS. The longtime LS teacher has been able to watch many students grow up as they follow their paths through the high school.
"There are so many times where I have seen kids in such pockets of their lives where they have just shined," Cole said. "From watching a kid not get their role in theater that they really wanted, to turn around and see another student crying and supporting them."
"[Wayland's] sense of community with each other is something I'm really excited to be a part of," Cole said.