Boys varsity swim wins fourth state title after an undefeated season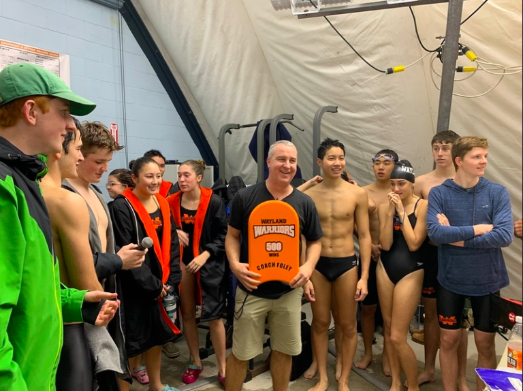 The WHS boy's swim and dive team secured its fourth state title in a row at the Division 2 state meet on Feb. 16. This year, it went 18-0 in the regular season before going on to win sectionals and states.
Over the three previous seasons, the swim and dive team has had relatively the same team, but in the past season, many seniors who scored many points during meets have graduated. The swimmers still believed they could win another championship, but knew they had to adjust their attitude in order to do so.
"I think that knowing we lost a lot of very strong people–high performing people–we thought that since we [had] a chance to do it again, we [would] work double as hard in order to get back to where we were," junior Armen Abrahamian said. "I think a lot of the mentality of the season was just working extremely hard to make up for what we lost."
With the loss of last year's seniors, the swim and dive team needed other members to step up and fill their roles to guarantee a shot at winning.
"We had two freshmen who made states: Billy Burke and Max Nelson, and they both actually did score at states, so that was very helpful," Abrahamian said.
Along with many key team members leaving, the swim and dive team also faced another challenge throughout the season: illness. The flu, pneumonia and bronchitis rampaged through the team, knocking out many of the swimmers and divers.
"We had one stretch where we had five meets in seven days, and a lot of our points [scorers] were very sick," senior captain Jack Brown said. "Kids were going down with all different kinds of sicknesses, so we really just had to work hard to survive that time and try and get healthy, and luckily we got sick during the middle of the regular season, not during the end of the season."
Luckily, all of the team members were healthy going into the postseason. The team had a full line-up going into sectionals and states, which it especially needed in its sectional meet.
"[Sectionals] was actually our biggest comeback in sectional history," Abrahamian said. "[It] was probably the most exciting meet I think I've ever been to in my life, and I've swam for my whole life."
Sectionals, which is the meet right before states, is organized by the region a school is in, so the swim team had to face schools in Division 1 when it was in Division 2. The team began the meet 60 points behind the top school, St. John's Prep, before any move to start gaining more points.
"There was a point during the meet that I and a lot of other kids thought that we couldn't possibly come back," senior captain Anthony Xue said.
The swimmers and divers had to fight hard until the final race in order to knock out St. John's Prep and place first in the meet by seven points
"We knew that [losing point scorers] was going to be a big challenge for this season, but we went in with the knowledge that if we didn't swim our best, we weren't going to win the meet," Brown said. "[Sectionals] came down to the last relay because our divers gave us a huge effort and put us ahead by a little bit. We just had to get fifth place to win the meet, and we ended up pulling away with third, so that was all we needed."
After sectionals, the team faced only teams in its division at the state meet and won with 343 points, over 100 more points than the second place team. The swimmers and divers attribute their success at states and the rest of the season to the closeness of the team.
"I think that we are a family and that we're willing to fight for each other," Brown said. "We're willing to hurt for each other. We're willing to push that extra bit for each other that other teams might not be able to push."
Next year, the swim and dive teams will lose a number of seniors again, but they're still optimistic about their chances of winning.
"I definitely think that we have a strong chance to win again, and next year, we are losing a bunch of people, a bunch of talented people, so it's going to take even more work," Abrahamian said. "We have a pretty large group of freshmen coming in next year, so hopefully some of them will shine through. But, I mean again, we have to work hard [to] get better. If we all get better, then I think we can definitely win [next year]."